»

Recipes

»

Eggplant
Fried Eggplant Recipe
Fried Eggplant is an amazingly delicious version of side dish. An easy to prepare recipe, Fried Eggplant is a dish that you will surely love to talk about with us.
Fried Eggplant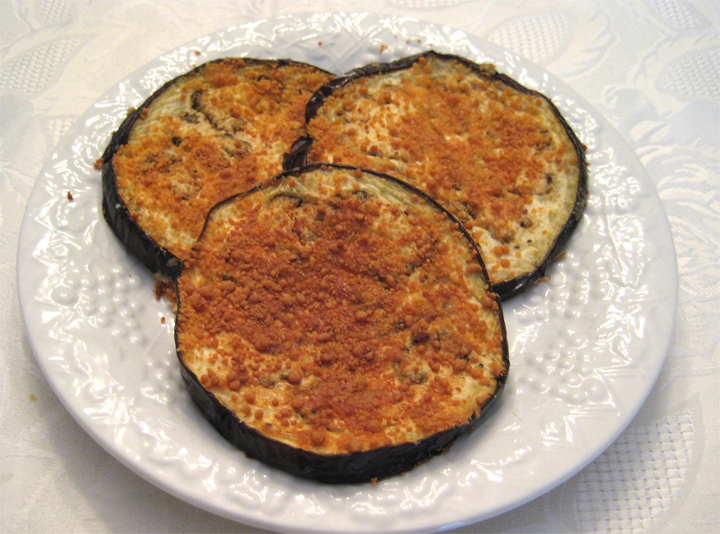 Ingredients
Eggplants

2 Large

Olive oil/Half olive oil and half shortening

2 Cup (32 tbs)

(For Frying)

Salt

To Taste

Skohdaua sauce

To Taste
Nutrition Facts
Serving size: Complete recipe
Calories 4040 Calories from Fat 3834
% Daily Value*
Total Fat 434 g667.3%
Saturated Fat 60 g299.8%
Trans Fat 0 g
Cholesterol 0 mg
Sodium 415.6 mg17.3%
Total Carbohydrates 53 g17.7%
Dietary Fiber 31.1 g124.6%
Sugars 21.9 g
Protein 9 g18.5%
Vitamin A 5% Vitamin C 33.6%
Calcium 8.7% Iron 25.7%
*Based on a 2000 Calorie diet
Directions
Remove 1/2 inch lengthwise strips of peel from eggplants, leaving 1/2 inch strips of peel between.
Cut eggplant into thick slices, sprinkle with salt and place in a colander to drain.
Weigh down with a heavy plate and let stand for 30 minutes.
In a large skillet heat the oil and in it brown eggplant on both sides, adding more oil as necessary.