»

Recipes

»

Glaze

»

Glaze

»

Fresh Strawberry Glaze Pie
Fresh Strawberry Glaze Pie Recipe
A perfect Strawberry pie recipe for this Christmas.Easy to make and the perfect dessert for this festive season.A must try. Do let me know how it turned out for you.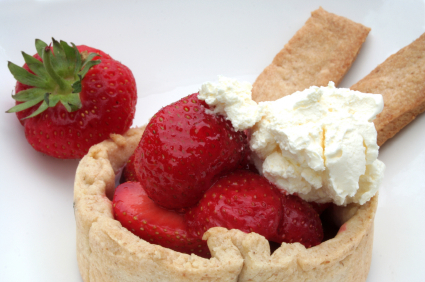 Summary
Preparation Time
10 Min
Cooking Time
1 Hr 0 Min
Ready In
1 Hr 10 Min
Difficulty Level
Medium
Ingredients
Pie shell

9 Inch

(baked)

Granulated sugar

1 Cup (16 tbs)

Cornstarch

2 1⁄2 Tablespoon

Butter

1 Tablespoon

(unsalted)

Strawberries

2 Pint

Orange juice

2 Tablespoon

Heavy cream

1 Cup (16 tbs)

, whipped

Confectioners' sugar

1 Tablespoon
Nutrition Facts
Serving size: Complete recipe
Calories 2370 Calories from Fat 982
% Daily Value*
Total Fat 112 g171.8%
Saturated Fat 66.1 g330.6%
Trans Fat 0 g
Cholesterol 361.1 mg
Sodium 233.6 mg9.7%
Total Carbohydrates 349 g116.2%
Dietary Fiber 20 g79.9%
Sugars 264.1 g
Protein 13 g25.4%
Vitamin A 81.6% Vitamin C 968.3%
Calcium 32.2% Iron 25.4%
*Based on a 2000 Calorie diet
Directions
Prepare and bake pie shell; let cool. GLAZE: Wash strawberries gently in
cold water. Drain; hull. In medium saucepan, crush strawberries with potato
masher. Combine sugar and cornstarch; stir into crushed strawberies. Add
1/2 cup w FILLING: Wash strawberries gently in cold water. Drain; hull.
Measure 3 cups; reserve rest for garnish. In medium bowl, gently toss
strawberries with Cointreau; let stand about 30 Just before serving, whip
cream until stiff; fold in confectioners' sugar. Variation - Strawberry
Devonshire Glace Pie: Combine 1 package (3 oz) soft cream cheese with 1
tablespoon light cream.