»

Recipes

»

Ham

»

Fresh-Ham Hocks, Country Style
Fresh-Ham Hocks, Country Style Recipe
Ham Hock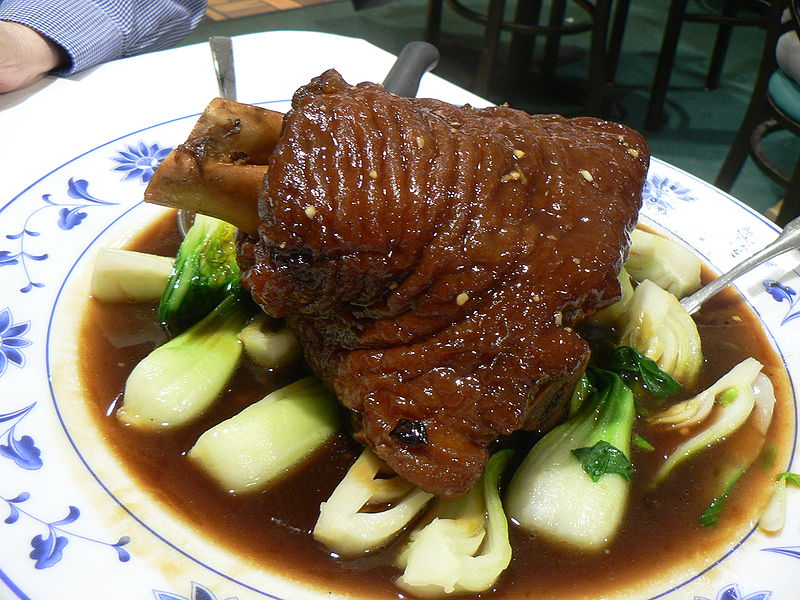 Ingredients
Ham hocks

5 Pound

Apple cider

1 Quart

Cider vinegar

1⁄4 Cup (4 tbs)

Butter/Margarine

1⁄4 Cup (4 tbs)

Onion

3 Cup (48 tbs)

, sliced

Sugar

1 Teaspoon

Salt

To Taste

Pepper

To Taste

Yellow turnip

4 Cup (64 tbs)

, cubed (1 Inch)

Rutabaga

1 1⁄2 Pound

Bay leaf

1

Applesauce

1 Pound
Nutrition Facts
Serving size
Calories 1339 Calories from Fat 793
% Daily Value*
Total Fat 88 g136%
Saturated Fat 28.3 g141.4%
Trans Fat 0 g
Cholesterol 203.5 mg
Sodium 517.3 mg21.6%
Total Carbohydrates 81 g27.1%
Dietary Fiber 9.2 g36.6%
Sugars 52.7 g
Protein 61 g122.1%
Vitamin A 5.1% Vitamin C 126%
Calcium 15.4% Iron 12.6%
*Based on a 2000 Calorie diet
Directions
GETTING READY
1. Preheat oven to 350F.
2. Wash ham hocks and dry with paper towels.

MAKING
3. Take a 15-by-10-by-2-inch roasting pan and arrange the ham hocks.
4. Pour cider and vinegar over ham hocks, cover pan with foil and bake 1-1/2 hours, basting several times with liquid.
5. In a medium skillet in hot margarine, saute onion with sugar until onions are lightly browned.
6. Sprinkle with 1/2 teaspoon salt and 1/8 teaspoon pepper and set aside.
7. Remove ham hocks from oven skim off fat and discard.
8. Add turnip and sprinkle with 1-1/2 teaspoons salt and 1/2 teaspoon pepper.
9. Add browned onion and bay leaf and bake, covered for 1-1/2 hours.
10. Remove foil spoon applesauce around ham hocks and bake, uncovered, 1/2 hour longer until ham hocks are very tender.

SERVING
11. Serve with turnips and pan liquid spooned over all.