»

Recipes

»

Cake

»

Fresh Coconut Cake
Fresh Coconut Cake Recipe
Coconut is indeed a wonderful and versatile ingredient. A yummy treat, this Fresh Coconut Cake just goes on to prove it. A delicious anytime treat. Try it and you are sure to love it. Do let me know how it turned out for you!
Fresh Coconut Cake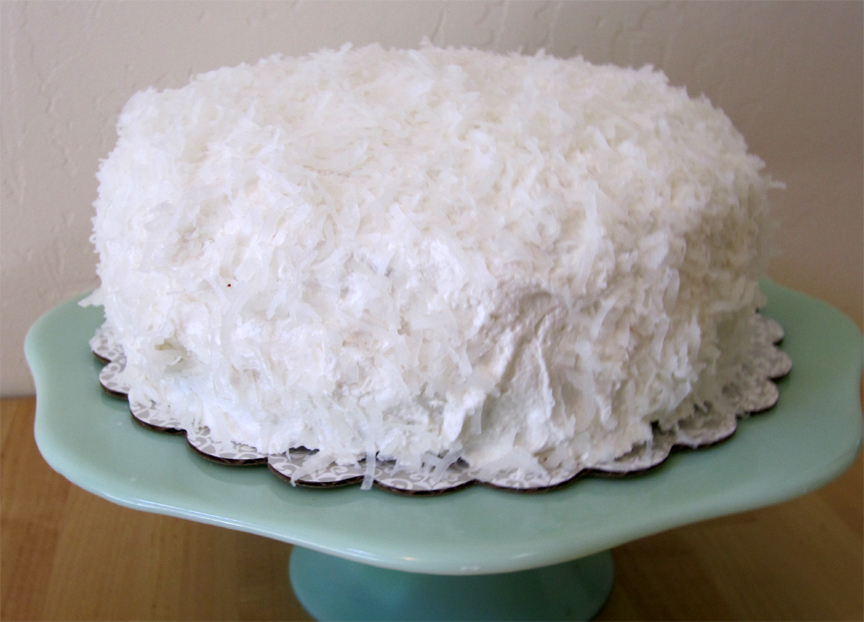 Ingredients
Shortening

1 Cup (16 tbs)

Sugar

2 Cup (32 tbs)

Vanilla

1 Teaspoon

Flour

3 Cup (48 tbs)

, sifted

Baking powder

3 Teaspoon

Salt

1 Teaspoon

Milk

1⁄2 Cup (8 tbs)

Coconut milk

1⁄2 Cup (8 tbs)

Fresh coconut

1 Cup (16 tbs)

, grated

Egg whites

6

, stiffly beaten
Nutrition Facts
Serving size
Calories 457 Calories from Fat 197
% Daily Value*
Total Fat 23 g34.6%
Saturated Fat 8.8 g43.8%
Trans Fat 2.2 g
Cholesterol 0.94 mg
Sodium 292.3 mg12.2%
Total Carbohydrates 60 g19.9%
Dietary Fiber 1.7 g6.7%
Sugars 34.8 g
Protein 6 g11.2%
Vitamin A 0.2% Vitamin C 0.87%
Calcium 11.2% Iron 10.9%
*Based on a 2000 Calorie diet
Directions
GETTING READY
1) Preheat oven to 365° F.
2) Grease a paper-lined cake pan.

MAKING
3) Cream the shortening and sugar until light and fluffy. Add vanilla and mix.
4) Take a bowl and combine in it baking powder, flour and salt. Add the creamed mixture alternating with coconut milk and milk.
5) Turn the mixture into the greased cake pan and bake for about 25 minutes.
6) Cool the layers in the pan for about 10 minutes.
7) Turn onto a wire rack and cool completely.

SERVING
8) Frost the cake as per your desire. Slice and serve.