»

Recipes

»

Risotto

»

Fresh Basil And Tomato Risotto
Fresh Basil and Tomato Risotto Recipe
A complete meal in itself, the Tomato Risotto with fresh basil is your answer to a quick and easy meal. Highly nutritious you have also catered for your family's health with the Risotto. Enjoy this wonderful Italian mixture of rich flavors and tastes.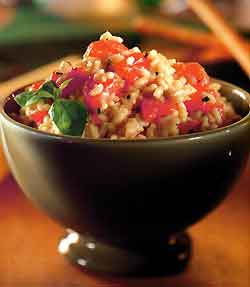 Ingredients
Chopped plum tomatoes

2 Cup (32 tbs)

Chopped basil

3 Tablespoon

(fresh)

Olive oil

1 Tablespoon

Salt

1 Teaspoon

Garlic

2 Clove (10 gm)

, minced

Chicken broth

8 Cup (128 tbs)

(can use less if desired)

Onion

1 Medium

, chopped

Arborio rice

2 Cup (32 tbs)

Dry white wine

1⁄2 Cup (8 tbs)

Shredded mozzarella cheese

2⁄3 Cup (10.67 tbs)

Freshly ground pepper

1⁄2 Teaspoon

Grated parmesan cheese

1⁄3 Cup (5.33 tbs)
Nutrition Facts
Serving size
Calories 519 Calories from Fat 101
% Daily Value*
Total Fat 11 g17.6%
Saturated Fat 4.8 g24%
Trans Fat 0 g
Cholesterol 23.9 mg
Sodium 1982.5 mg82.6%
Total Carbohydrates 86 g28.7%
Dietary Fiber 2.6 g10.5%
Sugars 10.6 g
Protein 12 g24.8%
Vitamin A 30.9% Vitamin C 30.6%
Calcium 25.2% Iron 9.3%
*Based on a 2000 Calorie diet
Directions
Combine the tomatoes, basil, 1 tablespoon olive oil, salt and garlic in a bowl and mix well. Set aside. Bring the chicken broth to a boil in a saucepan. Remove from the heat and cover to keep warm.

Heat 1 tablespoon olive oil in a saucepan over medium-high heat. Add the onion and saute for 3 minutes or until tender and translucent. Add the rice and cook for 1 minute or until a white dot is visible in the center of each grain, stirring constantly. Stir in the wine and cook for 1 minute or until almost absorbed, stirring constantly. Add 1 cup warm chicken broth and cook until the broth is absorbed, stirring constantly. Add 6 cups broth 1 cup at a time, cooking until the broth is absorbed before adding more and stirring constantly. When 6 cups of broth have been added, add the broth 1/2 cup at a time and test the rice. Rice should be tender but still firm when done. You may not need all 8 cups of broth. The total cooking time should be about 30 minutes.

When the rice tests done, stir in the tomato mixture and cook for 2 minutes. Remove from the heat and stir in the mozzarella cheese and pepper. Top each serving with Parmesan cheese.