»

Recipes

»

Fresh Pink Pineapple
Fresh Pink Pineapple Recipe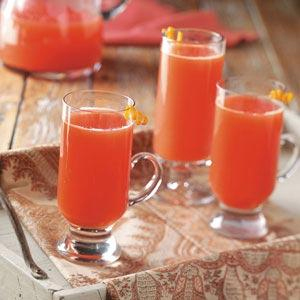 Ingredients
| | | |
| --- | --- | --- |
| | Fresh pineapple | 1 Small |
| | Pineapple juice | 3⁄4 Cup (12 tbs) |
| | Fruit sugar | 1⁄2 Cup (8 tbs) |
| | Lemon juice | 1 Tablespoon |
| | Grenadine | 2 Tablespoon |
Nutrition Facts
Serving size: Complete recipe
Calories 969 Calories from Fat 9
% Daily Value*
Total Fat 1 g1.6%
Saturated Fat 0.08 g0.39%
Trans Fat 0 g
Cholesterol 0 mg
Sodium 22.1 mg0.9%
Total Carbohydrates 255 g85%
Dietary Fiber 10.2 g40.9%
Sugars 142.8 g
Protein 5 g9%
Vitamin A 8.4% Vitamin C 706.1%
Calcium 11.8% Iron 14.9%
*Based on a 2000 Calorie diet
Directions
Peel the pineapple, remove eyes and core, cut in 1-inch chunks.
Blend the chunks, a third at a time, with 1/4 cup of the pineapple juice.
Cover and blend until crushed.
As it's pureed, pour it into a bowl.
To the last lot of pineapple and juice add the lemon juice, sugar and grenadine.
Cover and blend.
Stir into the pineapple puree in the bowl and chill thoroughly.
Spoon into compotes and add a dab of whipped cream or small scoop of ice cream.
Garnish each with a fresh pink rose petal or pink coconut.