»

Recipes

»

Asian

»

Classic Fresh Beet Salad
Classic Fresh Beet Salad Recipe
Once you try your hand at this Fresh Beet Salad you will feel like it is tailor-made for you. Fresh Beet Salad has a sort of divinely taste (one that I would rarely associate with beet). Do prepare it!
Beet Salad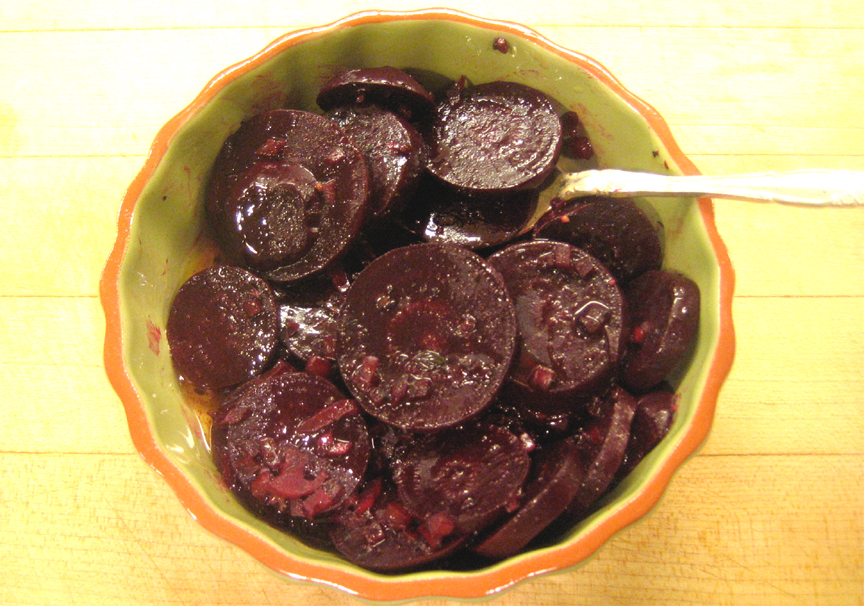 Ingredients
8 medium-sized beets

Salt

To Taste

Water

1/2 small head chicory

1/4 cup olive or salad oil

Sugar

1 Tablespoon

Wine vinegar

3 Tablespoon

Prepared mustard

1 Tablespoon

Oregano leaves

1/4 Teaspoon
Directions
1. Wash beets well with running cold water. In 3-quart saucepan over high heat, heat unpeeled beets, 1 teaspoon salt, and enough water to cover to boiling. Reduce heat to low; cover and simmer 30 minutes or until beets are tender; drain. Cool beets slightly, until easy to handle. Peel beets; cut into 1/4 inch-thick slices, then cut slices into 1/4-inch-wide strips. Tear chicory into bite-sized pieces.
2. In large bowl, mix olive oil, sugar, vinegar, mustard, oregano, and 1/2 teaspoon salt. Add beets and chicory; gently toss to mix well.