»

Recipes

»

Sprout

»

French Sprouts
French Sprouts Recipe
French Sprouts is a simple side dish recipe. It can be served as a side dish or an appetizer or snack too. It is easily made in 20 minutes and can be prepared right before dinner time. Everybody will love the French Sprouts including kids.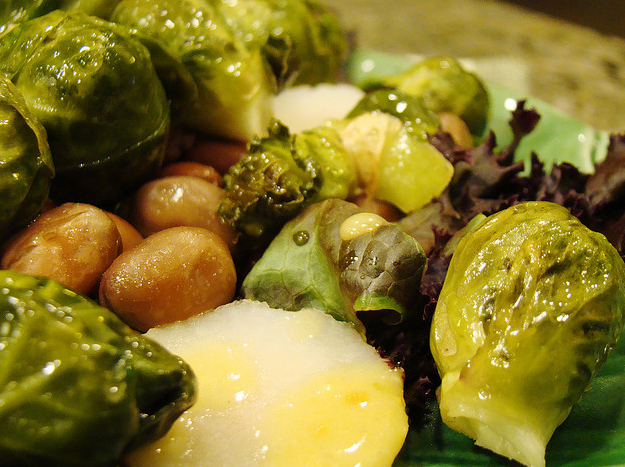 Ingredients
Chestnuts

1 Pound

Brussels sprouts

1 Quart

Butter

1⁄4 Cup (4 tbs)

, melted
Nutrition Facts
Serving size
Calories 481 Calories from Fat 128
% Daily Value*
Total Fat 15 g22.4%
Saturated Fat 7.8 g38.9%
Trans Fat 0 g
Cholesterol 30.2 mg
Sodium 63.4 mg2.6%
Total Carbohydrates 81 g27.1%
Dietary Fiber 14.8 g59.2%
Sugars 17.2 g
Protein 12 g23.5%
Vitamin A 42.7% Vitamin C 335.1%
Calcium 10.3% Iron 18.4%
*Based on a 2000 Calorie diet
Directions
GETTING READY
1)Cut gash in flat side of each chestnut.

MAKING
2)In a baking pan, mix oil and add chestnuts.
3)Bake them at 350 degrees for 10 minutes.
4)Remove the shells and skins.
5)In a saucepan, cook chestnuts and sprouts boiling salted water for 20 minutes or until sprouts are tender and drain.

SERVING
6)Add butter and serve immediately.
Image Courtesy :
http://www.flickr.com/photos/veganfeast/3646096068/