»

Recipes

»

French

»

French Chocolate Milk
French Chocolate Milk Recipe
This French Chocolate milk recipe I tried out was much more tastier and easier than I thought it would be. This recipe for French chocolate milk contains semisweet chocolate morsels. Worth your time!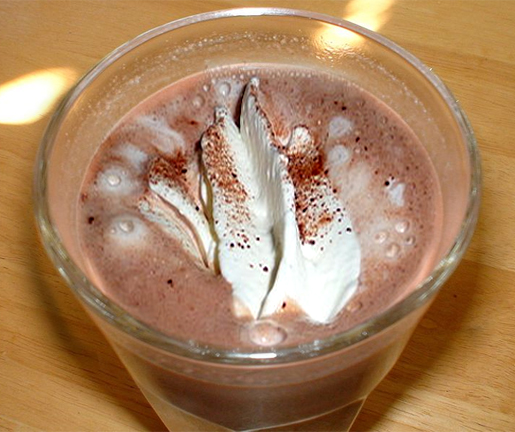 Ingredients
Semi-sweet chocolate morsels

1⁄3 Cup (5.33 tbs)

Light corn syrup

1⁄4 Cup (4 tbs)

Water

3 Tablespoon

Vanilla extract

1⁄2 Teaspoon

Whipping cream

1 Cup (16 tbs)

Milk

1 Quart

, scalded
Nutrition Facts
Serving size: Complete recipe
Calories 2052 Calories from Fat 1181
% Daily Value*
Total Fat 132 g202.8%
Saturated Fat 84 g420.1%
Trans Fat 0 g
Cholesterol 426 mg
Sodium 497.7 mg20.7%
Total Carbohydrates 177 g59%
Dietary Fiber 0 g
Sugars 128.9 g
Protein 30 g60.9%
Vitamin A 19.3% Vitamin C
Calcium 121.3% Iron 1.6%
*Based on a 2000 Calorie diet
Directions
Combine chocolate morsels, corn syrup, and water in a small heavy saucepan; cook over low heat, stirring constantly, until chocolate is melted and mixture is smooth.
Stir in vanilla.
Cover and chill 30 to 45 minutes, stirring occasionally.
Gradually add whipping cream and chocolate powdered.
Chill.