»

Recipes

»

Trifle

»

Freezer Trifle
Freezer Trifle Recipe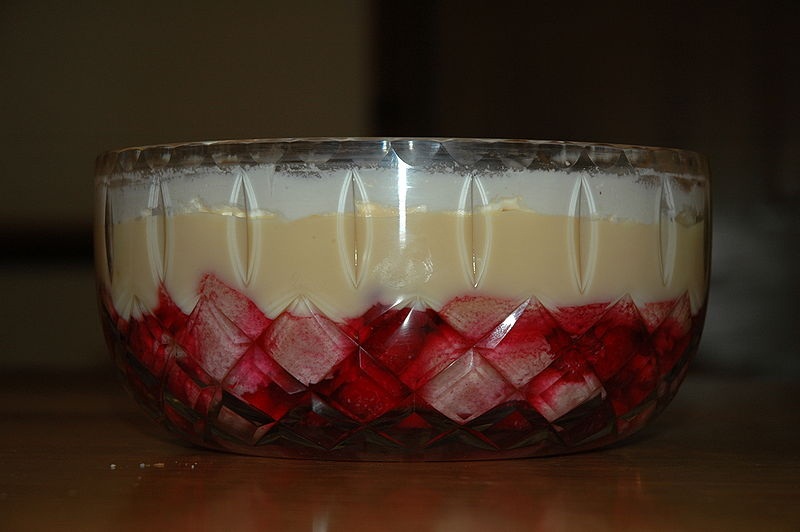 Summary
Cooking Time
30 Min
Difficulty Level
Easy
Health Index
Healthy
Servings
4
Ingredients
Sponge cakes

4

Strawberry jam

4 Tablespoon

(Or As Required)

Orange

1 Large

Lemon

1⁄2

Bananas

2

Dairy custard

14 1⁄2 Ounce

(1 Can / 411 Grams)

Whipping cream/Double cream

1⁄4 Pint

(125 Milliliter)

Castor sugar

2 Teaspoon

(1 Rounded Teaspoon)

Chocolate

2 Ounce

, grated (Or As Required)
Directions
GETTING READY
1) Use an ovenproof or plastic dish of similar size to your trifle bowl to line with cling wrap.
2) Cut the sponge cakes into halves and sandwich with jam.
3) Arrange in the bowl, by cutting in pieces.
4) Squeeze in the juice from the orange and lemon.
5) Remove the banana skin and sieve to mix into the juice.
6) Pour this over the sponge cakes to soak.
7) Spread the custard on top.
8) In a bowl, whip the cream and sugar until just thick.
9) Spread the whipped mixture on the custard.
10) Sprinkle with grated chocolate.
11) Cover the dish with cling wrap, and place inside the frozen zone to freeze.
12) When firm, remove from the dish and wrap in foil or a freezer bag.

SERVING
13) In the trifle bowls, place the trifles by unwrapping the cling wrap.

TIPS
To use the frozen, leave to thaw for about 6 hours at room temperature or overnight in the refrigerator.
Image Courtesy :
http://commons.wikimedia.org/wiki/File:Trifle-(cream-layer)-profile.jpg