»

Recipes

»

Asian

»

Fool M'Dammas
Fool M'Dammas Recipe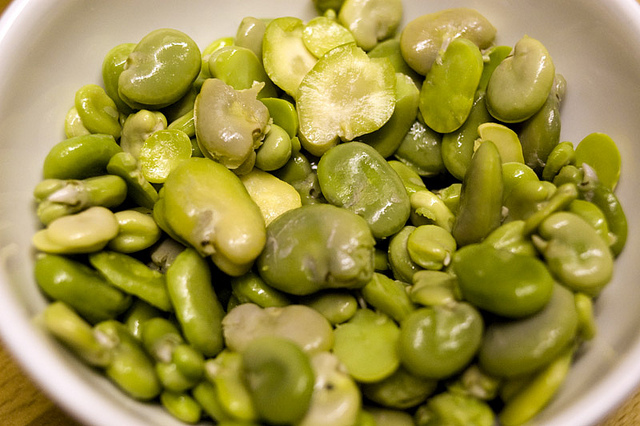 Ingredients
| | | |
| --- | --- | --- |
| | Dried broad fava beans | 1 Pound |
| | Garlic | 2 Clove (10 gm) |
| | Olive oil | 1⁄2 Cup (8 tbs) |
| | Lemon juice | 1 Tablespoon |
| | Salt | 1 Teaspoon |
| | Black pepper | 1⁄4 Teaspoon |
Nutrition Facts
Serving size
Calories 631 Calories from Fat 253
% Daily Value*
Total Fat 29 g44.2%
Saturated Fat 4 g20.1%
Trans Fat 0 g
Cholesterol 0 mg
Sodium 500.4 mg20.8%
Total Carbohydrates 67 g22.5%
Dietary Fiber 28.5 g114%
Sugars 6.6 g
Protein 30 g59.7%
Vitamin A 1.2% Vitamin C 6.9%
Calcium 12.4% Iron 43.8%
*Based on a 2000 Calorie diet
Directions
Drain the beans and place in a large saucepan.
Cover well with water, bring to the boil.
Cover, turn clown heat and simmer, ;adding more water and stirring when necessary, until the beans are tender for approx 3/4 hour.
Drain the beans and mix in the crushed garlic olive oil, lemon juice, salt and pepper.
Serve hot or cold.
Image Courtesy :
http://www.flickr.com/photos/tavallai/4599411726/

Dried favas and even fresh mature favas MUST be peeled! I love favas with artichoke hearts and preserved lemons.
Posted on:
17 March 2010 - 9:23pm

Anonymous says :
I tried this recipe with fava beans. But the skin was tough with these beans. The recipe didn't say to shell the fava beans
Posted on:
17 March 2010 - 8:30pm