»

Recipes

»

Muffin

»

Fluffy Muffin
Fluffy Muffin Recipe
This is a kid friendly Fluffy Muffin recipe. My sister likes this Fluffy Muffin recipe. It is true that cooking is her hobby. She keeps preparing various types of dishes. But whenever she is very happy. She makes this muffin .An Interesting fact is that my family also likes this muffin very much. You must try this Fluffy Muffin recipe.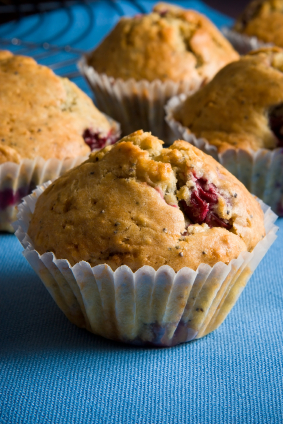 Ingredients
All purpose flour

2 1⁄2 Cup (40 tbs)

Whole wheat flour

1 Cup (16 tbs)

Sugar

1⁄2 Cup (8 tbs)

Baking powder

5 Teaspoon

Salt

2⁄3 Teaspoon

Eggs

2 Small

, beaten

Buttermilk

2⁄3 Cup (10.67 tbs)

Cooking oil

1⁄4 Cup (4 tbs)
Nutrition Facts
Serving size
Calories 452 Calories from Fat 114
% Daily Value*
Total Fat 13 g19.9%
Saturated Fat 2 g10.2%
Trans Fat 0 g
Cholesterol 53.6 mg
Sodium 564 mg23.5%
Total Carbohydrates 74 g24.8%
Dietary Fiber 4.1 g16.2%
Sugars 17 g
Protein 11 g21.9%
Vitamin A 1.3% Vitamin C
Calcium 32.9% Iron 22%
*Based on a 2000 Calorie diet
Directions
Stage1-Stir together flours, sugar, baking powder and salt; make well in center.

Stage2-Mix egg, buttermilk and oil; add to dry ingredients.

Stage3-Stir to moisten. Fill greased muffin pans 2/3 full.

Stage4-Bake at 375 degrees fareihite for 30 to 35 minutes

Hi..the recipe is well balanced and ideally your batter should not be dry. I think you must have followed the 3/2 cups of buttermilk proportion which was a typo error. It has been corrected now please use that proportion.
Posted on:
17 February 2011 - 4:34am

Anonymous says :
I tried it with 2/3 tsp salt and 2/3 cup buttermilk and it came out just fine.
Posted on:
18 August 2009 - 12:51am

Butterfly says :
Hi. In your recipe, you have indidated that there is 3/2tsp salt and 3/2c buttermilk. Were those measurements meant to be 2/3 tsp salt and 2/3 cup buttermilk? I've been looking for a really great muffin recipe, and I dont want to mess this up because I misunderstood. Thank you
Posted on:
17 August 2009 - 6:40am

Thanks Doreen for correcting me, Please add your favorite fruit/poppy seeds in ingredients.
Posted on:
19 February 2008 - 2:21pm

From the photo, it appears there is some sort of fruit peaking out of the muffin and poppy seeds, but your ingredients do not mention fruit/poppy seeds. Can you clarify? Have you tried replacing cooking oil with all-natural unsweetened applesauce? Warmly, Doreen
Posted on:
19 February 2008 - 2:14pm