»

Recipes

»

European

»

Russian

»

FLANK STEAK STROGANOFF
FLANK STEAK STROGANOFF Recipe
Flank steak stroganoff is a flavorful and delicious European dish. It goes well with noodles and cooked rice.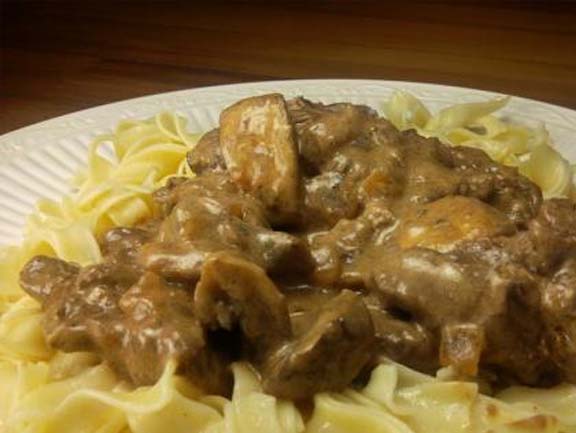 Ingredients
Flank steak

2 pound

Butter/Margarine

6 Tablespoon

Garlic

1 Clove (5gm)

, halved

Onion

1 Cup (16 tbs)

, chopped

Button mushrooms

2 Can (10oz)

Flour

3 Tablespoon

Salt

1/2 Teaspoon

Pepper

1/8 Teaspoon

Beef-bouillon cubes - 3, crumbled

Beef broth

1 1/2 Can (10oz)

, condensed

Dry white wine

1/4 Cup (16 tbs)

Dill

1 1/2 Tablespoon

, snipped

Dairy sour cream

1 Cup (16 tbs)
Directions
MAKING
1. Place the steak in the freezer for 15 minutes so that it will be easier to slice it.
2. Trim off excess fat.
3. Slice steak into 1/4 inch thickness across the grain.
4. Cut long strips into 2 ½ inch pieces.
5. In a large skillet, heat 2 tablespoons of butter or margarine until it is very hot.
6. Add sliced steak which is just enough to cover bottom of pan. Brown it quickly on both the sides.
7. Remove from pan as it browns and continue with browning the rest of the beef.
8. Add remaining butter to the skillet.
9. Sauté garlic, onion and mushrooms for 5 minutes.
10. Remove from flame. Discard garlic.
11. Add flour, salt, and pepper. Stir well till it is of a smooth consistency.
12. Add bouillon cubes. Gradually stir into beef broth.
13. Bring it to a boil, while stirring it continuously.
14. Reduce flame and simmer for 5 minutes.
15. Add wine, dill, and sour cream. Cook it over a low flame.
16. Add the browned beef. Heat it slowly over a low flame until it is hot thoroughly.

SERVING
17. Serve Flank Steak Stroganoff with noodles.