»

Recipes

»

Custard

»

Flaming Pumpkin Flan
Flaming Pumpkin Flan Recipe
Flaming Pumpkin Flan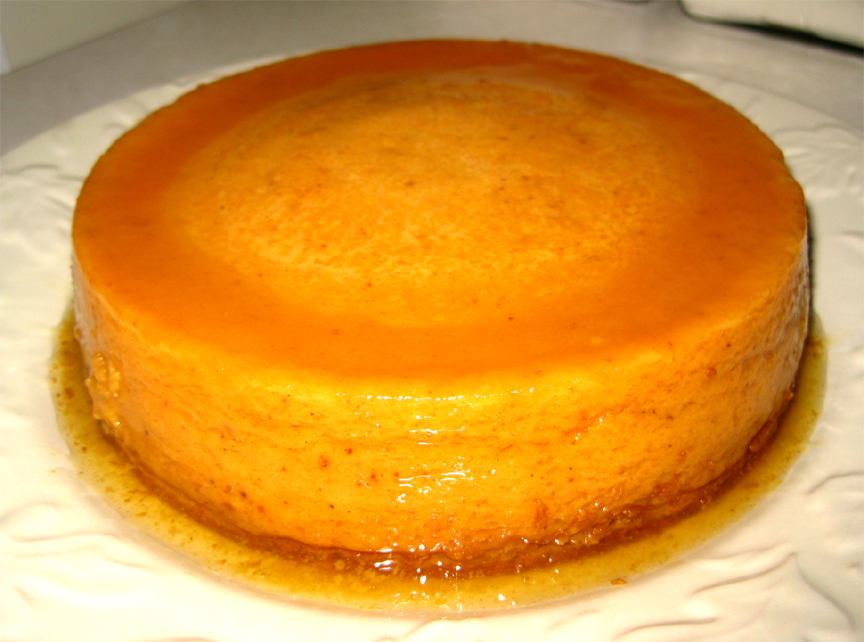 Ingredients
| | | |
| --- | --- | --- |
| | Sugar | 1 1⁄4 Cup (20 tbs) |
| | Evaporated milk/Scalded thin cream | 3 Cup (48 tbs) |
| | Pumpkin puree | 2 Cup (32 tbs) |
| | Sugar | 2⁄3 Cup (10.67 tbs) |
| | Rum | 1⁄2 Cup (8 tbs) |
| | Whole eggs | 6 |
| | Egg yolks | 2 |
| | Salt | 1 Teaspoon |
| | Ground cinnamon | 1 Teaspoon |
| | Ground ginger | 1⁄4 Teaspoon |
| | Ground nutmeg | 1⁄2 Teaspoon |
| | Ground mace | 1⁄2 Teaspoon |
| | Whipping cream | 1 Cup (16 tbs) |
| | Brandy | 1⁄2 Cup (8 tbs) |
Nutrition Facts
Serving size: Complete recipe
Calories 4669 Calories from Fat 1593
% Daily Value*
Total Fat 179 g274.8%
Saturated Fat 102.1 g510.4%
Trans Fat 0 g
Cholesterol 2193.2 mg
Sodium 3281.6 mg136.7%
Total Carbohydrates 524 g174.8%
Dietary Fiber 18 g72.2%
Sugars 493.3 g
Protein 101 g201.6%
Vitamin A 1599.8% Vitamin C 60.1%
Calcium 252.9% Iron 87.6%
*Based on a 2000 Calorie diet
Directions
1 Spoon the sugar into a heavy skillet set over medium heat. Slowly melt the sugar, stirring constantly until it becomes a smooth syrup and deep amber in color.
2 Pour the sugar into a well-chilled, buttered round 2-quart glass casserole. Tip to coat sides and bottom of the casserole with the caramel; chill.
3 Prepare custard by mixing together all remaining ingredients except the whipping cream and the brandy. Pour into the caramel-lined casserole.
4 Set casserole in a pan of hot water and bake in a 350°F. oven for about 1 1/4 hours, or until set. Meanwhile, whip the cream.
5 Cool custard at room temperature for 10 minutes, then invert on a serving plate and lift off the casserole. Wait about 20 minutes more before serving.
6 Heat the brandy (or use more rum) until it becomes hot but does not boil. Pour immediately over the flan and ignite; rush to the dinner table.