»

Recipes

»

German

»

Flaming Blintzes
Flaming Blintzes Recipe
Cottage Cheese Fruit Blintzes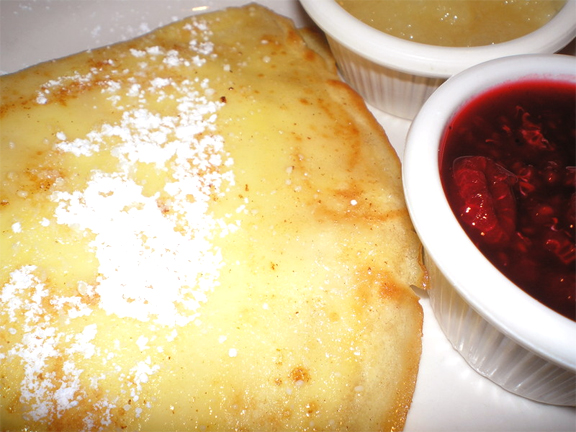 Ingredients
Butter stick

1⁄3

Flour

1⁄2 Cup (8 tbs)

Water

1 Cup (16 tbs)

Eggs

5

Salt

To Taste

Hoop cheese

1 Pound

, grated

Sugar

1 Tablespoon

Sour cream

2 Tablespoon

Cherry pie filling

1 Can (10 oz)

Crushed pineapple

1 Can (10 oz)

, drained

Kirsch/Rum

1⁄4 Cup (4 tbs)
Nutrition Facts
Serving size: Complete recipe
Calories 1830 Calories from Fat 551
% Daily Value*
Total Fat 62 g95.3%
Saturated Fat 21.5 g107.4%
Trans Fat 0 g
Cholesterol 1106.1 mg
Sodium 973.6 mg40.6%
Total Carbohydrates 190 g63.5%
Dietary Fiber 5.9 g23.6%
Sugars 58.2 g
Protein 117 g233.8%
Vitamin A 66.4% Vitamin C 67.5%
Calcium 21.7% Iron 45.8%
*Based on a 2000 Calorie diet
Directions
Melt butter.
Sift flour into water; beat until smooth.
Beat in 3 eggs, butter and salt.
Pour just enough batter into hot, lightly greased skillet to cover bottom of skillet.
Tilt skillet to spread batter evenly.
Cook until underside of cake is browned and top is dry.
Turn cake onto towel.
Repeat with remaining batter.
Combine cheese, remaining eggs, sugar and sour cream; spoon mixture into center of each cake.
Fold in sides of cakes; roll cakes.
Place in greased baking dish.
Bake at 375 degrees for 1 hour, turning once.
Combine cherry pie filling and pineapple in chafing dish; heat.
Pour rum over cherry mixture; set aflame.
Spoon over blintzes.