»

Recipes

»

Asian

»

Kofta

»

Fish Kofta With Spice Tomato Sauce
Fish Kofta with Spice Tomato Sauce Recipe
Indian cuisine includes many delicious dishes based on meat balls or fish balls, know as kofta. Try this recipe using fillets of white fish. It's very easy to make and the fusion of the flavours of the tomatoes, spices and herbs will appeal to everyone. If you are serving the dish to children, reduce the amount of chilli pepper used.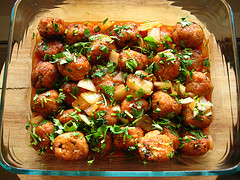 Ingredients
Salt

To Taste

Pepper

To Taste

White fish fillets

1 Kilogram

(2 1/4 Pound - such as cod)

Onions

3

Garlic

2 Clove (10 gm)

Tomatoes

3

Chilli pepper/1/4 teaspoon chilli powder

1

Coriander

1 Bunch (100 gm)

Egg

1

Butter

2 Tablespoon

Breadcrumbs

2 Tablespoon

Groundnut oil

2 Tablespoon

Turmeric

1⁄2 Teaspoon

Garlic

1 Clove (5 gm)

Ground coriander

1⁄2 Teaspoon

Cumin

1⁄4 Teaspoon

Ground ginger

1⁄4 Teaspoon

Bay leaf

1
Nutrition Facts
Serving size: Complete recipe
Calories 1823 Calories from Fat 751
% Daily Value*
Total Fat 85 g131.2%
Saturated Fat 22.7 g113.6%
Trans Fat 0 g
Cholesterol 937.4 mg
Sodium 1644.5 mg68.5%
Total Carbohydrates 83 g27.8%
Dietary Fiber 17.6 g70.2%
Sugars 30.5 g
Protein 197 g394.4%
Vitamin A 220.4% Vitamin C 225%
Calcium 87.9% Iron 49.5%
*Based on a 2000 Calorie diet
Directions
Bring a large quantity of water to the boil. Add salt, pepper, the clove, the bay leaf and the fish. Remove the fish from the pan when cooked (keeping the cooking liquid) and leave it to cool on a plate.

Remove the seeds from the chilli pepper and chop the pepper finely. Peel and chop the onion into small pieces. Cut up the coriander leaves, keep a few to one side for decoration.

In a food processor, roughly chop the fish, chilli pepper, coriander and half the onions. Add the egg and breadcrumbs and mix together to make a smooth paste. Roll this mixture into equal-sizes balls and put them on a plate

Heat 1 tablespoon of butter and the oil in a non-stick frying pan. Cook the fish balls in small batches, a few at time, for 3 minutes per batch. Drain on kitchen paper and put them to one side on a plate.

Heat the rest of the butter and cook the ramaining chopped onions until golden with the chopped garlic, turmeric, cumin, ground coriander, ginger and salt. Dice the tomatoes, add to the pan, and cook for 10 minutes, stiring freqently. Add 500ml (18fl oz) of the liquid used to cook the fish and simmer for a further 10 minutes.

Add the fish balls and let them cook for 3 minutes on a low heat. Serve in a dish sprinkled with the rest of the coriander.