»

Recipes

»

Indian

»

Tamil

»

Fish In Tamarind Curry (Meen Kulambu)
Fish in Tamarind Curry (Meen kulambu) Recipe
This Fish curry is very easy and tasty. A south-indian dish that tastes great prepared with any kind of fish. Try and enjoy!!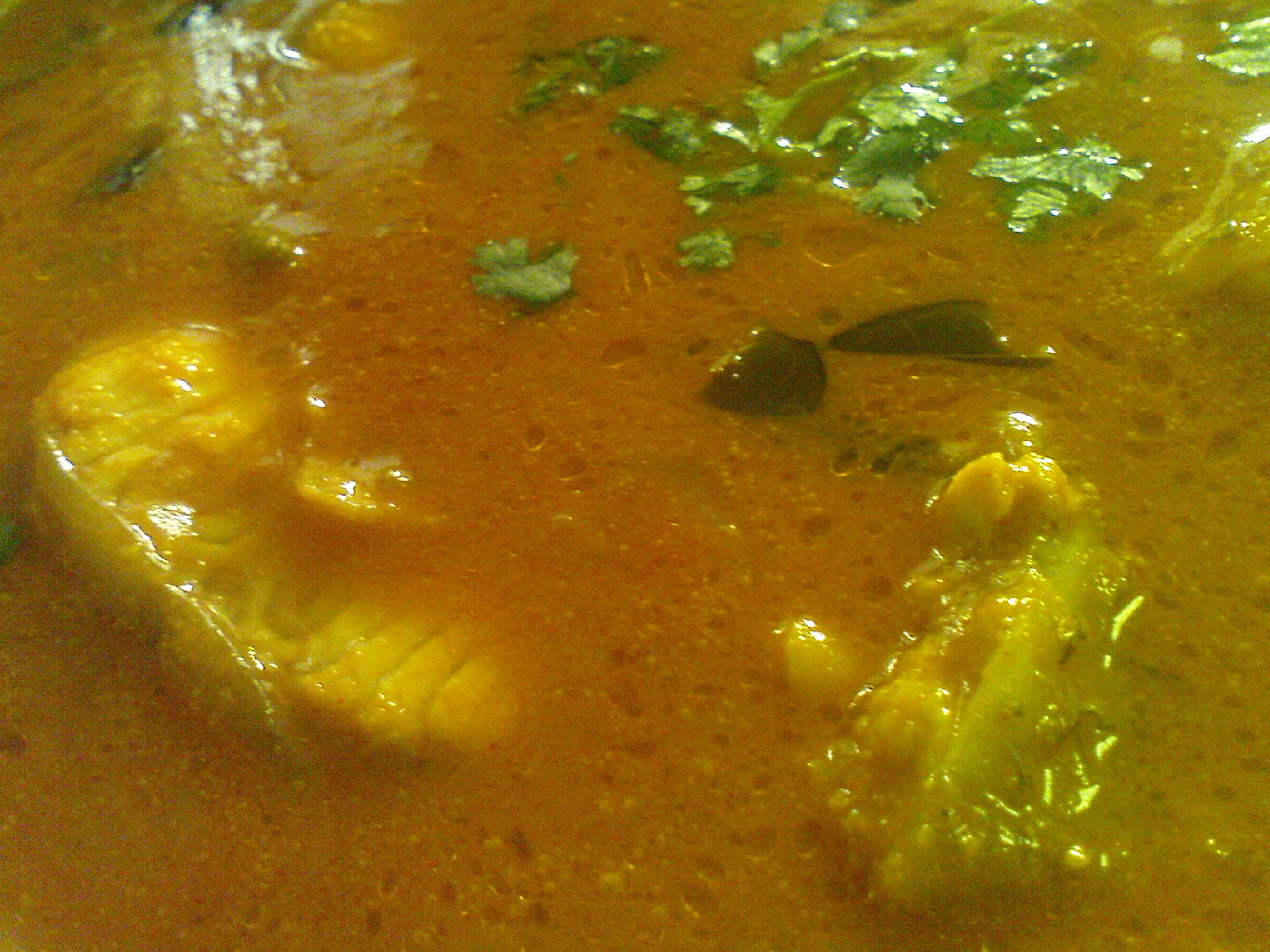 Ingredients
Fish pieces

6

Tamarind juice

1 1⁄2 Cup (24 tbs)

Gingelly oil

5 Teaspoon

Fenugreek seeds

1 Teaspoon

(methi)

Red chilli powder

3 Teaspoon

Turmeric powder

1 Teaspoon

Coriander powder

4 Teaspoon

Grated coconut

1⁄4 Cup (4 tbs)

Fennel seeds

1 Teaspoon

Pearl onion

10

, unpeeled and chopped

Tomato

1

, finely chopped

Green chilly

1

, slit lengthwise

Salt

To Taste

Curry leaves

14

(1 string)
Nutrition Facts
Serving size
Calories 490 Calories from Fat 215
% Daily Value*
Total Fat 24 g37.3%
Saturated Fat 9.8 g48.8%
Trans Fat 0 g
Cholesterol 96 mg
Sodium 998.1 mg41.6%
Total Carbohydrates 51 g17.1%
Dietary Fiber 6.7 g26.9%
Sugars 11.3 g
Protein 24 g47.1%
Vitamin A 28% Vitamin C 28.8%
Calcium 9.6% Iron 15.3%
*Based on a 2000 Calorie diet
Directions
1. Clean the Fish well and keep aside.
2. Grind the coconut with fennel seeds, 3 pearl onions in to a fine paste and keep aside.
3. Heat oil in kadai, add the fenugreek seeds and saute till light brown.
4. Add the onions, green chilly, curry leaves and saute till transparent and then add the tomatoes and saute for 2mins.
5. Now add turmeric powder, red chilly powder, coriander powder, salt and saute for a min.
6. Add the grinded coconut paste and saute a 2mins till the raw smell goes(careful not to burn the masala).
7. Add the tamaind juice and 2 cups of water and adjust taste. Let it boil well for 5-8mins.
8. When the curry gets the right cosistency, keep the flame high and drop the fish pieces one by one slowly and boil for 5mins.
9. Garnish with cilantro and serve.

Tastes great with hot white rice. Enjoy!

Tharini says :
Loved it! Thank you so much! The only change I made was to make it with coconut milk instead of grated coconut. My husband loves it as do I :)
Posted on:
29 October 2011 - 1:48pm

GTG says :
Hi Sanghi, It is a excellent recipe, i tried it for the first time, it turned out to be a big success. Thank you.
Posted on:
1 August 2010 - 1:47pm
Hi Sanghi .... tried out this recipe. It was a big hit . Thank you.
Posted on:
8 November 2009 - 11:40am

hi Sanghi...very interesting recipe! I think I had something like this when I was on a month long trip touring south India... the food was great and refreshing.. will try this out.. nice surprise finding this recipe :)
Posted on:
26 September 2009 - 7:25am