»

Recipes

»

Method

»

Frying

»

Fish Fry
Fish fry Recipe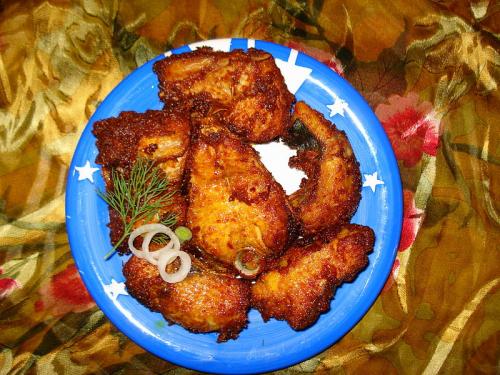 Summary
Preparation Time
10 Min
Cooking Time
25 Min
Ready In
35 Min
Difficulty Level
Very Easy
Health Index
Just Enjoy
Servings
5
Ingredients
Fish pieces

6

Oil

1 Teaspoon

Tamarind pulp

1 Teaspoon

Red chili powder

1 Teaspoon

Salt

To Taste

Sooji

3 Tablespoon

(Rava)

Garlic

6
Nutrition Facts
Serving size
Calories 275 Calories from Fat 115
% Daily Value*
Total Fat 13 g19.6%
Saturated Fat 5.9 g29.5%
Trans Fat 0 g
Cholesterol 76.8 mg
Sodium 751.4 mg31.3%
Total Carbohydrates 24 g8.1%
Dietary Fiber 1.9 g7.5%
Sugars 0.2 g
Protein 18 g35.3%
Vitamin A 0.8% Vitamin C 3.4%
Calcium 0.9% Iron 1%
*Based on a 2000 Calorie diet
Directions
Clean fish and apply crushed garlic, tamarind, chilli, salt to the pieces and leave it for around half an hour.
Heat tava and put one tea spn oil. Roll the fish in sooji so that there is a coating of it arond fish. Fry on a low flame on all sides.
Serve hot with rice and Kande tamboli.

This is the best way I like my fish- fried. Its very easy to cook though I've never coated the fish with sooji...will try it this time.
Posted on:
3 November 2007 - 3:49pm