»

Recipes

»

Batter

»

Fish Batter
Fish Batter Recipe
Fish and chips that's my favorite. This fish batter recipe with beer gives the fish a really nice flavor. Flavored crispy fish with a generous helping of fries, couldn't get better.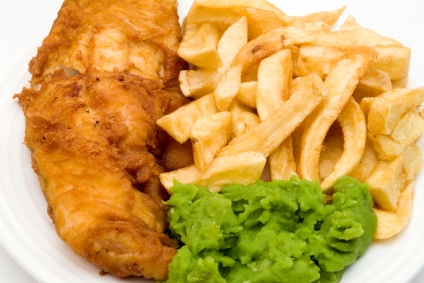 Ingredients
All purpose flour

1 1⁄2 Cup (24 tbs)

(for the batter)

Flour

1 Cup (16 tbs)

(for rolling)

Light beer

12 Ounce

Salt

1⁄2 Teaspoon

Paprika

1 Teaspoon

Crushed garlic

1⁄2 Teaspoon

Tabasco sauce

2 Dash

(Adjust quantity as per taste)
Nutrition Facts
Serving size
Calories 627 Calories from Fat 16
% Daily Value*
Total Fat 2 g2.9%
Saturated Fat 0.3 g1.5%
Trans Fat 0 g
Cholesterol 0 mg
Sodium 497.2 mg20.7%
Total Carbohydrates 124 g41.2%
Dietary Fiber 5.2 g20.6%
Sugars 0.8 g
Protein 17 g34%
Vitamin A 26.5% Vitamin C 3%
Calcium 3.5% Iron 43.9%
*Based on a 2000 Calorie diet
Directions
Take a big bowl. Add the beer and all other ingredients. Whisk it well to incorporate as much air as possible. This makes the batter nice, frothy and light. Roll the fish slices onto the dry flour and then dip in the beer batter. Deep fry to a golden brown color. Drain the excess oil. Serve hot with a good helping of fries.