»

Recipes

»

Fish

»

Fish And Collard Greens
Fish and Collard Greens Recipe
Explore culturally-rich food from the Congo with a fish stew often served with yams or sweet potatoes.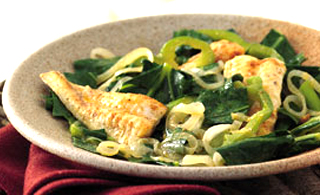 Ingredients
Collard green leaves

10 Large

Butter/Margarine

1⁄4 Cup (4 tbs)

Onions

2 Medium

, sliced

Green bell pepper

1 Medium

, sliced

Water

2 Tablespoon

Fish fillets

1 Pound

(catfish)

Salt

1⁄2 Teaspoon

Paprika

1⁄2 Teaspoon

Pepper

1⁄4 Teaspoon
Nutrition Facts
Serving size
Calories 140 Calories from Fat 102
% Daily Value*
Total Fat 12 g17.9%
Saturated Fat 7.3 g36.5%
Trans Fat 0 g
Cholesterol 30.2 mg
Sodium 252.1 mg10.5%
Total Carbohydrates 9 g3%
Dietary Fiber 2.3 g9.3%
Sugars 3.9 g
Protein 1 g3%
Vitamin A 26.4% Vitamin C 63.9%
Calcium 3.5% Iron 2.4%
*Based on a 2000 Calorie diet
Directions
1. Wash collard green leaves. Cut off long stem at the base of each leaf; carefully shave the remaining thick stem. Chop leaves. In 2-quart saucepan, heat 1 cup water to boiling. Add chopped collard greens. Boil 15 to 18 minutes or until softened; drain. Pat dry with paper towels.
2. In 4-quart Dutch oven, melt butter over medium-high heat. Cook collard greens, onions, bell pepper, 2 tablespoons water and 1 teaspoon salt in butter 4 to 6 minutes, stirring occasionally, until onion is crisp-tender.
3. Cut fish into 3x3/4-inch strips; add to vegetables. Sprinkle with 1/2 teaspoon salt, the paprika and pepper. Cover and simmer 6 to 8 minutes or until fish flakes easily with fork. Serve in large pasta bowls.
High Altitude (3500-6500 ft): No changes.