»

Recipes

»

Pudding

»

Firni Dessert
Firni Dessert Recipe
Firini is a favourite dessert of Muslims,it is a form of plain Custard prepared from Milk and Rice Meal, made from crushed or ground soft Rice, soaked for 12 hours before cooking.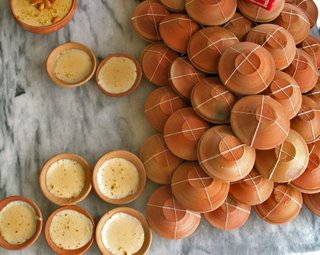 Ingredients
White rice

125 Gram

Milk

1 Liter

Sugar

250 Gram

Silver leaves

3

Saffron

1 Pinch

(a few stigmas)

Cashew nut

1⁄8 Cup (2 tbs)

Raisins

1⁄8 Cup (2 tbs)
Nutrition Facts
Serving size: Complete recipe
Calories 2189 Calories from Fat 359
% Daily Value*
Total Fat 40 g62.2%
Saturated Fat 20.1 g100.4%
Trans Fat 0 g
Cholesterol 100 mg
Sodium 414.1 mg17.3%
Total Carbohydrates 428 g142.7%
Dietary Fiber 4.9 g19.6%
Sugars 316.6 g
Protein 44 g88.9%
Vitamin A 20.5% Vitamin C 1.9%
Calcium 116.4% Iron 21.7%
*Based on a 2000 Calorie diet
Directions
In a pan, pour the Milk and bring it to a boil. Add the Rice flour and go on stirring with a ladle, till it is cooked into a thick pasty homogeneous pudding.
2. Add Sugar. Stir and cook for another 5 minutes. Pour into small glass or metalic bowls or plates, to cool and set. For serving 'Firni', fresh baked clay plates, or cups are usually used to impart a special aroma to the 'Firni'.

3. Decorate each bowl or plate or cup, with a piece of Silver leaf in the middle of the top and spread two or three wet, stigmas of Saffron around the leaf. Add cashw nuts and raisins and Serve it cool as a Dessert.