»

Recipes

»

Oceanian

»

Fijian

»

Fijian Chicken Wings
Fijian Chicken Wings Recipe
Fijian Chicken Wings is delicious dish made from chicken wings coconut cream and spices. This easy recipe of Fijian Chicken Wings is can be prepared quickly. Next time you invite your friends treat them with this exotic variety of chicken wings and boast your culinary talents.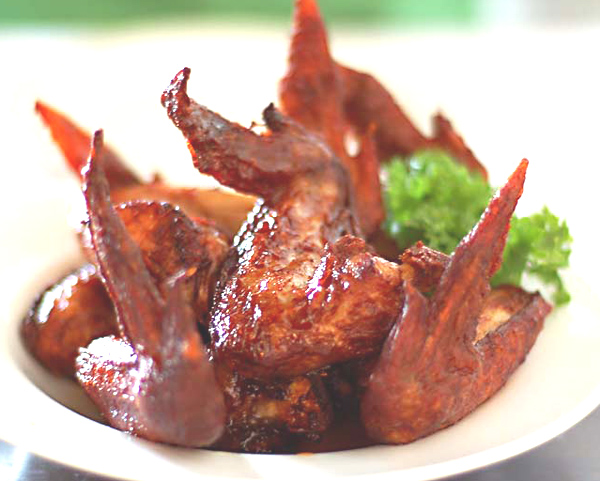 Ingredients
Chicken wings

20

180ml/6fl.oz. Soy Sauce

180ml/6fl.oz. Mirin or Sherry

60ml/2 fl.oz. Coconut Cream

Sesame oil

2 Tablespoon

(For the Marinade)

Brown sugar

3 Tablespoon

(For the Marinade)

Ginger

2 Tablespoon

, grated (For the Marinade)

Cardamom

2 Teaspoon

(For the Marinade)

Garlic

2 Clove (5gm)

(For the Marinade)

3 Chili Peppers
Directions
1. Place all the marinade ingredients in a blender or food processor and process until smooth.
2. Place the chicken wings in a shall dish, pour over the blended marinade and leave to marinate for at least 2 hours, turning from time to time.
3. Preheat the over to 200C, 400F, Gas Mark 6 and line a shallow baking tin with aluminium foil.
4. Remove the wings from the marinade, place in the lined tin and bake for 20-30 minutes, turning 3 or 4 times and basting frequently with the marinade, until cooked through and caramelised.