»

Recipes

»

Pie

»

Fidget Pie
Fidget Pie Recipe
Fidget Pie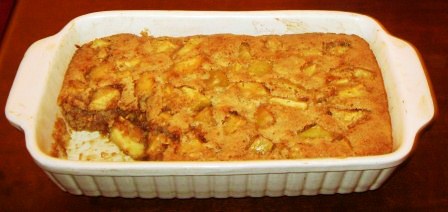 Ingredients
Potatoes

1 Pound

, peeled and sliced

Cooking apples

1 Pound

, peeled, cored and sliced

Onions

3

, peeled and sliced

Bacon/Ham

3⁄4 Pound

, cut into dice

Broth/Consomme

1 Cup (16 tbs)

9 inch pastry crust

1
Nutrition Facts
Serving size: Complete recipe
Calories 2100 Calories from Fat 805
% Daily Value*
Total Fat 93 g143%
Saturated Fat 22.5 g112.4%
Trans Fat 0 g
Cholesterol 90 mg
Sodium 3803.3 mg158.5%
Total Carbohydrates 287 g95.5%
Dietary Fiber 31.1 g124.3%
Sugars 82.2 g
Protein 55 g109.2%
Vitamin A 5.2% Vitamin C 237.1%
Calcium 17.6% Iron 27.5%
*Based on a 2000 Calorie diet
Directions
GETTING READY
1) Preheat oven to temperature of 425 degrees.

MAKING
2) In a baking dish which is fairly deep, arrange the potatoes, onions, apples and bacon in layers. Sprinkle each layer with pepper and very little salt before placing the next layer.
3) Add the broth and with the pastry, cover the preparation. Make a slit or two on top and garnish as preferred.
4) Bake in preheated oven for about 30 minutes, reduce the heat to 375 degrees and bake for another 60 minutes.

SERVING
5) Serve hot.