»

Recipes

»

Chicken

»

Baked Rock Cornish Hen
Baked Rock Cornish Hen Recipe
This baked rock Cornish hen recipe makes a nice side dish to accompany other meat, salad and vegetable dishes. You will enjoy baked rock Cornish hen most with a main dish of rice like pilaf.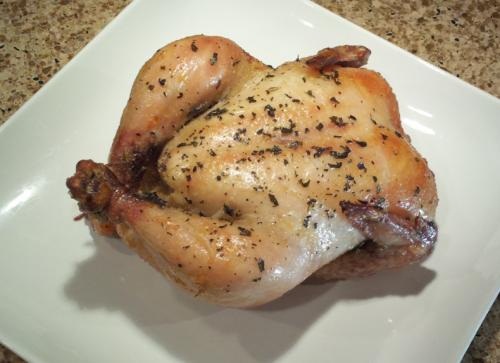 Ingredients
Salad oil

1⁄4 Cup (4 tbs)

Dry vermouth

1⁄4 Cup (4 tbs)

Salt

1⁄2 Teaspoon

Garlic

1 Clove (5 gm)

Bay leaf

1 Teaspoon

, crushed

Rock cornish hens

4
Nutrition Facts
Serving size
Calories 246 Calories from Fat 152
% Daily Value*
Total Fat 17 g25.9%
Saturated Fat 4.7 g23.3%
Trans Fat 0 g
Cholesterol 120.7 mg
Sodium 194.8 mg8.1%
Total Carbohydrates 0.76 g0.25%
Dietary Fiber 0.18 g0.71%
Sugars 0.1 g
Protein 21 g41.2%
Vitamin A 3.4% Vitamin C 1.8%
Calcium 2% Iron 6.9%
*Based on a 2000 Calorie diet
Directions
MAKING
1)In a bowl, mix together vermouth, oil, bay leaf, salt and garlic. Leave it for 1 hour.
2)Remove and discard garlic and brush marinade over hens. Leave it for 3 hours.
3)Take a baking pan and bake at 375 degrees for 1 hour or until hens are tender and browned.

SERVING
4)Serve Rock Cornish hen immediately.