»

Recipes

»

Pancake

»

Pancake

»

Favorite Pancakes
Favorite Pancakes Recipe
These favorite pancakes of mine are simple and easy to prepare. Simply combined together and spread on a griddle, these pancakes can be baked to a desired doneness and color. Served with honey or syrup, these are good to go for breakfast.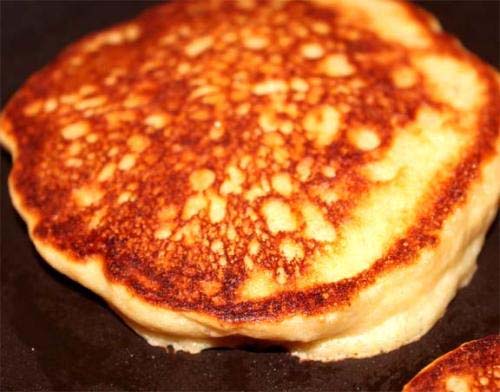 Ingredients
All purpose flour

2⁄3 Cup (10.67 tbs)

, sifted

Baking powder

1 1⁄2 Teaspoon

Sugar

1 1⁄2 Teaspoon

Salt

1⁄4 Teaspoon

Egg

1

, beaten

Milk

1⁄2 Cup (8 tbs)

Salad oil

1 Tablespoon
Nutrition Facts
Serving size
Calories 152 Calories from Fat 54
% Daily Value*
Total Fat 6 g9.4%
Saturated Fat 1.1 g5.6%
Trans Fat 0.1 g
Cholesterol 55.7 mg
Sodium 298.3 mg12.4%
Total Carbohydrates 20 g6.6%
Dietary Fiber 0.57 g2.3%
Sugars 3.5 g
Protein 5 g9.3%
Vitamin A 1.8% Vitamin C
Calcium 18% Iron 7.9%
*Based on a 2000 Calorie diet
Directions
Sift together dry ingredients.
Combine egg, milk, and oil; add to dry ingredients, stirring just till moistened.
Bake on hot, lightly greased griddle.