»

Recipes

»

Cake

»

Favorite One-Egg Cake
Favorite One-Egg Cake Recipe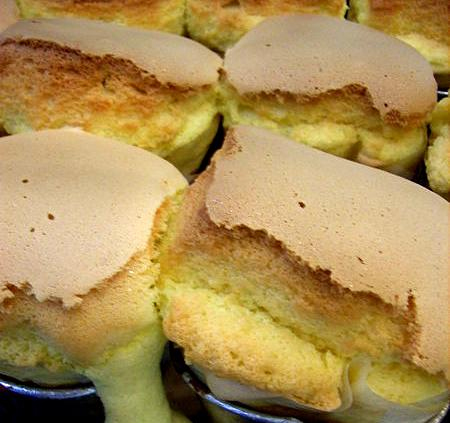 Ingredients
Cake flour

2 Cup (16 tbs)

, sifted

Sugar

1 Cup (16 tbs)

Baking powder

1/2 Teaspoon

Salt

1 Teaspoon

Shortening

1/3 Cup (16 tbs)

Milk

1 Cup (16 tbs)

Legg

Vanilla extract

1 Teaspoon

Sift before measuring.
Directions
.1 Preheat oven to 350F.
Grease well and flour two 8-by-1-1/2-inch layer-cake pans, or a 9-by-9- by-l-3/4-inch baking pan.
Into large bowl of electric mixer, sift flour with sugar, baking powder, and salt.
Add shortening and milk.
At medium speed, beat 2 minutes, occasionally scraping side of bowl and guiding mixture into beaters with rubber scraper.
Add egg and vanilla; beat 2 minutes longer.
Pour batter into prepared pans; bake layers 25 to 30 minutes; square 30 to 35 minutes; or until surface springs back when gently pressed with fingertip.
Cool in pans 10 minutes.
Remove from pans; cool thoroughly on wire racks.
Fill and frost as desired.