»

Recipes

»

Bean

»

Fava Bean Rounds
Fava Bean Rounds Recipe
These flavorful rounds are made from well-seasoned fava beans and then fried golden brown. They're perfect served by themselves or in pita bread sandwiches.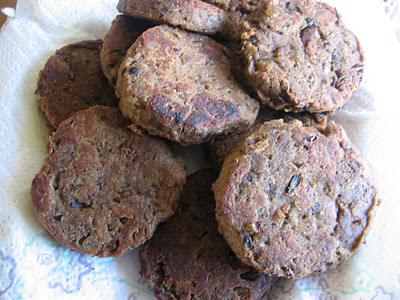 Ingredients
Water

2 Cup (32 tbs)

Dried white fava beans

1 Cup (16 tbs)

(Garbanzo Beans)

Egg

1

Red onion

1 Small

, finely chopped

Chopped parsley

3 Tablespoon

Gold medal all purpose flour

2 Tablespoon

Chopped garlic

2 Clove (10 gm)

Salt

1 Teaspoon

Ground coriander

1 Teaspoon

Ground cumin

3⁄4 Teaspoon

Baking powder

1⁄4 Teaspoon

Ground red pepper

1⁄8 Teaspoon

(Cayenne)

Vegetable oil

1 Cup (16 tbs)
Nutrition Facts
Serving size
Calories 752 Calories from Fat 509
% Daily Value*
Total Fat 58 g88.6%
Saturated Fat 7.7 g38.6%
Trans Fat 0 g
Cholesterol 52.9 mg
Sodium 544.1 mg22.7%
Total Carbohydrates 44 g14.7%
Dietary Fiber 16.5 g65.8%
Sugars 4.6 g
Protein 19 g37.5%
Vitamin A 21.7% Vitamin C 29.3%
Calcium 12.8% Iron 32%
*Based on a 2000 Calorie diet
Directions
1. Heat 2 cups water and the beans to boiling in 2-quart saucepan. Boil 2 minutes; remove from heat. Cover and let stand 1 hour.
2. Add enough water to cover beans if necessary. Heat to boiling; reduce heat. Cover and simmer 1 to 1/2 hours or until tender. Drain, reserving liquid.
3. Mash beans with fork; add 2 to 3 tablespoons reserved liquid if necessary. (Do not puree beans in blender or food processor.) Stir in remaining ingredients except oil. (Mixture should be thick.) Cover and let stand 1 hour.
4. Pinch off 1-inch pieces; shape into rounds and flatten. Let stand 30 minutes.
5. Heat oil (2 inches) in 3-quart saucepan to 375°F. Fry 4 or 5 rounds at a time in oil 2 to 3 minutes, turning once, until golden brown. Remove with slotted spoon; drain on paper towels.