»

Recipes

»

Sauce

»

Farina Pudding With Red Currant Sauce
Farina Pudding With Red Currant Sauce Recipe
Farina Pudding With Red Currant Sauce is a delicious mouth-watering dessert recipe. Try this amazingly irresistible Farina Pudding With Red Currant Sauce; I bet you will get a lot of compliments for this one!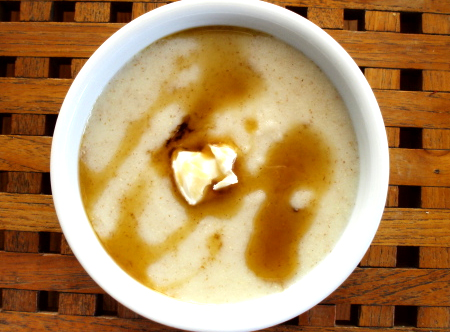 Ingredients
Milk

4 Cup (64 tbs)

Farina

2⁄3 Cup (10.67 tbs)

Cornstarch

2 Tablespoon

Sugar

4 Tablespoon

Butter

1 Tablespoon

Vanilla

1 Teaspoon

Egg

1

, separated

Red currant juice/Black currant juice

1 1⁄2 Cup (24 tbs)

Water

3⁄4 Cup (12 tbs)

Cinnamon stick

1

Lemon rind

1 Teaspoon

, cut in strips

Cornstarch

2 1⁄2 Tablespoon

(Dissolved In 3 Tablespoons Water)

Sugar

6 Tablespoon
Nutrition Facts
Serving size: Complete recipe
Calories 2196 Calories from Fat 422
% Daily Value*
Total Fat 47 g72.6%
Saturated Fat 26.2 g131.1%
Trans Fat 0 g
Cholesterol 334.1 mg
Sodium 470.7 mg19.6%
Total Carbohydrates 399 g132.8%
Dietary Fiber 6 g24.1%
Sugars 241.9 g
Protein 48 g96.6%
Vitamin A 31% Vitamin C 10.9%
Calcium 109.8% Iron 33.9%
*Based on a 2000 Calorie diet
Directions
Bring the milk to a boil.
Combine the farina, cornstarch and sugar and gradually add this mixture to the boiling milk, stirring constantly.
Continue stirring and cook 10 minutes or until thickened.
Remove from the heat and beat in the butter, vanilla and egg yolk.
Beat the egg white until stiff and gently fold it into the pudding.
Rinse a pudding mold with cold water and pour in the pudding.
Chill until set.
To prepare the sauce: place the juice, water, cinnamon stick and lemon rind in a saucepan and bring to a boil.
Cook gently for 3 minutes, then stir in the cornstarch mixture.
Cook 2 minutes and add the sugar to the sauce.
Remove and discard the lemon rind and cinnamon stick.
Unmold pudding on a platter and pour the warm sauce over.