»

Recipes

»

Bread

»

Fantastic Brunch
Fantastic Brunch Recipe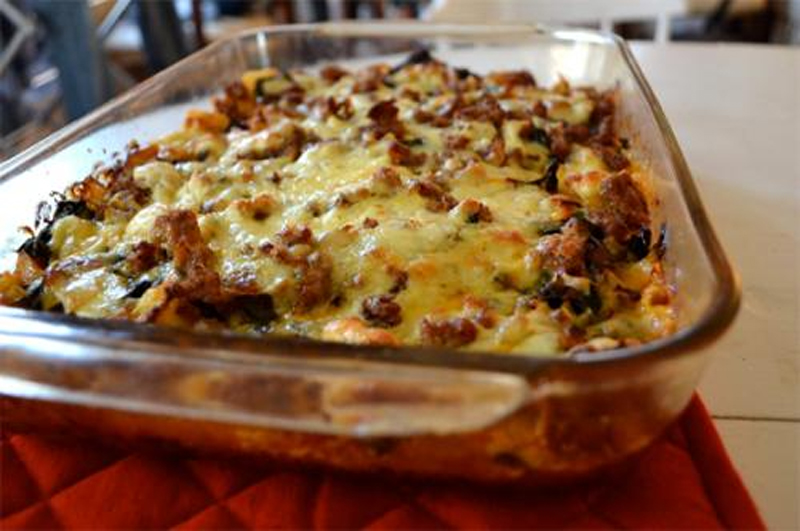 Ingredients
Bread slices

10

Sausage

2 Pound

(Jimmy Dean)

Eggs

8

Milk

4 Cup (64 tbs)

Cheddar cheese

4 Cup (64 tbs)

Mustard

1 Tablespoon
Nutrition Facts
Serving size: Complete recipe
Calories 6958 Calories from Fat 4595
% Daily Value*
Total Fat 515 g792.4%
Saturated Fat 233.7 g1168.7%
Trans Fat 1.9 g
Cholesterol 3044.4 mg
Sodium 11754.4 mg489.8%
Total Carbohydrates 188 g62.8%
Dietary Fiber 9 g35.8%
Sugars 56.7 g
Protein 387 g773%
Vitamin A 187.4% Vitamin C 11.3%
Calcium 576.9% Iron 169.2%
*Based on a 2000 Calorie diet
Directions
Cut bread in 1 inch cubes, put in bottom of casserole dish.
Fry sausage.
Put 1/2 of sausage on bread, cover with grated cheese {2 cups), then repeat.
Beat together milk, eggs and mustard, pour over casserole.
Put casserole in pan of water in oven.
Bake at 350° for 45 minutes to 1 hour

Melinda Pahl says :
What size casserole dish? Serves how many?
Posted on:
30 July 2011 - 2:01pm

Melinda Pahl says :
I plan to substitute cubed ham and grated Swiss cheese for a "Swiss Baked Fondue". A girlfriend of mine gave me her recipe years ago. It's since lost so I came here to find it. The sausage recipe sounds yummy but i prefer the ham and swiss combo since forever ago.
Posted on:
30 July 2011 - 1:56pm