»

Recipes

»

Mexican

»

Fajita
Fajita Recipe
Thinking of Fajitas can make you hungry.This a simple beef fajita recipe made with Tabasco sauce,onions & beef strips.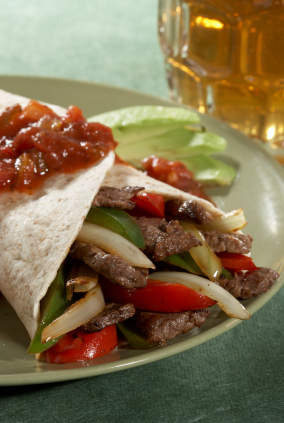 Ingredients
Flank steak

1 Pound

, sliced diagonally into strips

Fresh lime juice

1⁄2 Cup (8 tbs)

Lime juice

1⁄2 Cup (8 tbs)

Garlic powder

3⁄4 Teaspoon

Ground black pepper

1⁄2 Teaspoon

Freshly ground black pepper

1⁄2 Teaspoon

Tabasco sauce

1⁄2 Teaspoon

Onion

1 Medium

Green & red pepper

1 Medium

Oil

4 Tablespoon

Tortillas

4

(Warm)
Nutrition Facts
Serving size
Calories 450 Calories from Fat 215
% Daily Value*
Total Fat 23 g35.7%
Saturated Fat 5.4 g26.9%
Trans Fat 0 g
Cholesterol 30 mg
Sodium 369.4 mg15.4%
Total Carbohydrates 27 g9.1%
Dietary Fiber 4.4 g17.7%
Sugars 5.7 g
Protein 27 g54.6%
Vitamin A 2.7% Vitamin C 89.6%
Calcium 5.2% Iron 11.8%
*Based on a 2000 Calorie diet
Directions
Place beef strips into shallow dish. Combine lime juice, garlic powder, black pepper and Tabasco sauce and pour over beef, cover and refrigerate for four hours atleast. Remove meat from marinade; drain thoroughly. Cut onion and pepper into reasonably big pieces.Add 2 tablespoons of oil in frying pan,when it heats up,add onion & pepper to it,saute it till the onion turns light brown.Remove onion and pepper; set aside. Add 2 tablespoons oil,saute beef until brown,add onion and pepper; cook for 1 minute. Serve in warm tortillas.