»

Recipes

»

Stew

»

Exotic Vegetable Stew
Exotic Vegetable Stew Recipe
Exotic Vegetable Stew has a Mouth-watering taste.The Garam Masala and Green Chilli gives the Exotic Vegetable Stew Matchless taste.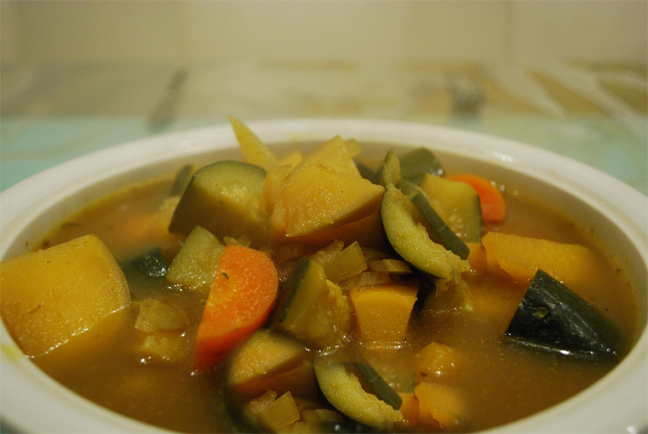 Summary
Difficulty Level
Easy
Health Index
Healthy
Ingredients
Oil

4 Teaspoon

1/2 tsp cummin seed

Mustard seed

1/2 Teaspoon

1 cup hopped onion

2 cup hopped green chillies

Garlic – ginger paste

1 Teaspoon

Garam masala

1/2 Teaspoon

Coriander powder

1 Teaspoon

Turmeric powder

1/2 Teaspoon

4 cup mixed vegetables (carrots, frenchbeans, turnips, capsicum, cauliflower, celery (optional), potatoes, shelled and boiled greenpeas)

2 cup hopped tomatoes

Sugar

2 Teaspoon

Tomato ketchup

2 Teaspoon

2 tsp chopped coriander leaves

Salt arid pepper

Salt arid pepper
Directions
Heat oil and add cummin seed and mustard seed, and when they splutter-add onion and chillies and fry until golden brown.
Mix together ginger and garlic paste, garam masala, coriander powder and turmeric powder.
Add the vegetables except green peas, stirring occasionally.
Cook over a low flame until the vegetables are cooked about 20-30 minutes.
If necessary add 1/4 cup water at the end so that they do not stick to the bottom of the pan.
Mix in the green peas and the rest of the ingredients and cook for a further 5 minutes, stirrinp occasionally.
Image Courtesy :
http://www.flickr.com/photos/avlxyz/4721104772/