»

Recipes

»

Mexican

»

Empanada

»

Empanadas
Empanadas Recipe
Empanadas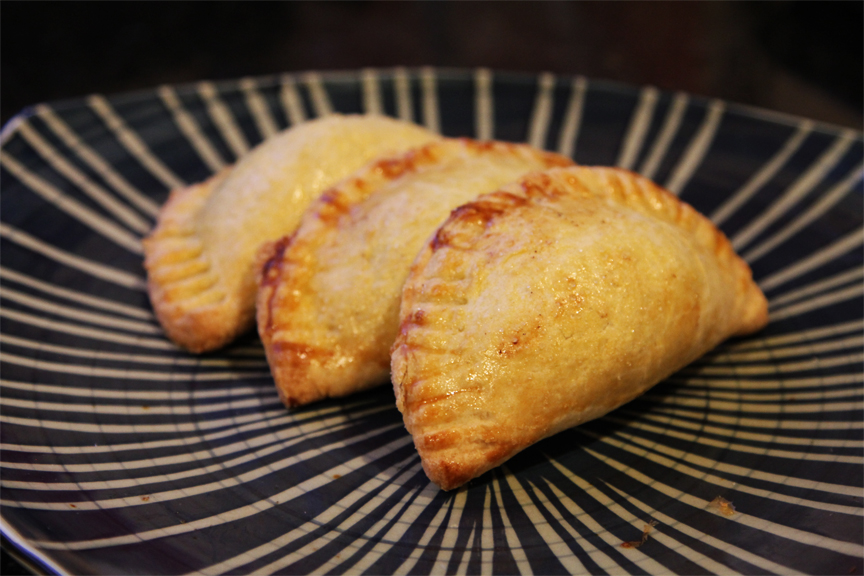 Ingredients
Chorizo

1⁄2 Pound

Chopped green chile

4 Tablespoon

Sour cream

1⁄4 Cup (4 tbs)

(Use More Quantity If Needed)

Pastry for 2 crust 9 inch pie

1
Nutrition Facts
Serving size: Complete recipe
Calories 1974 Calories from Fat 1388
% Daily Value*
Total Fat 157 g241.3%
Saturated Fat 58.5 g292.4%
Trans Fat 8 g
Cholesterol 333.9 mg
Sodium 2884.1 mg120.2%
Total Carbohydrates 116 g38.7%
Dietary Fiber 0.9 g3.6%
Sugars 22.4 g
Protein 39 g77.8%
Vitamin A 40% Vitamin C 243.3%
Calcium 13.8% Iron 22.3%
*Based on a 2000 Calorie diet
Directions
1 Fry the sausage and drain well. Combine with green chile to taste. Add sour cream to form a thick filling that will hold together.
2 Preheat oven to 400°F. Roll out the pastry as for pie. Using a round cutter, cut the pastry into rounds.
3 Place a spoonful of filling in the center of each pastry round, fold over, and seal with a forked or fluted edging.
4- Place turnovers on cookie sheets and bake until golden, about 15 minutes. Best served warm.