»

Recipes

»

Stew

»

Eggplant Stew With Rice
Eggplant Stew with Rice Recipe
I'm still posting eggplant recipes, and I still have more, because eggplants and zucchinis are the main things we've been getting from farmers market every week for over a month now. And I took the opportunity to show how Turks are crazy about eggplant! Cive is a great summer dish from the Mediterranean coast of Turkey, Antalya. Cive is good warm or cold, with yogurt or bread. The main point is to make it with green tomatoes that give cive the desired sour taste.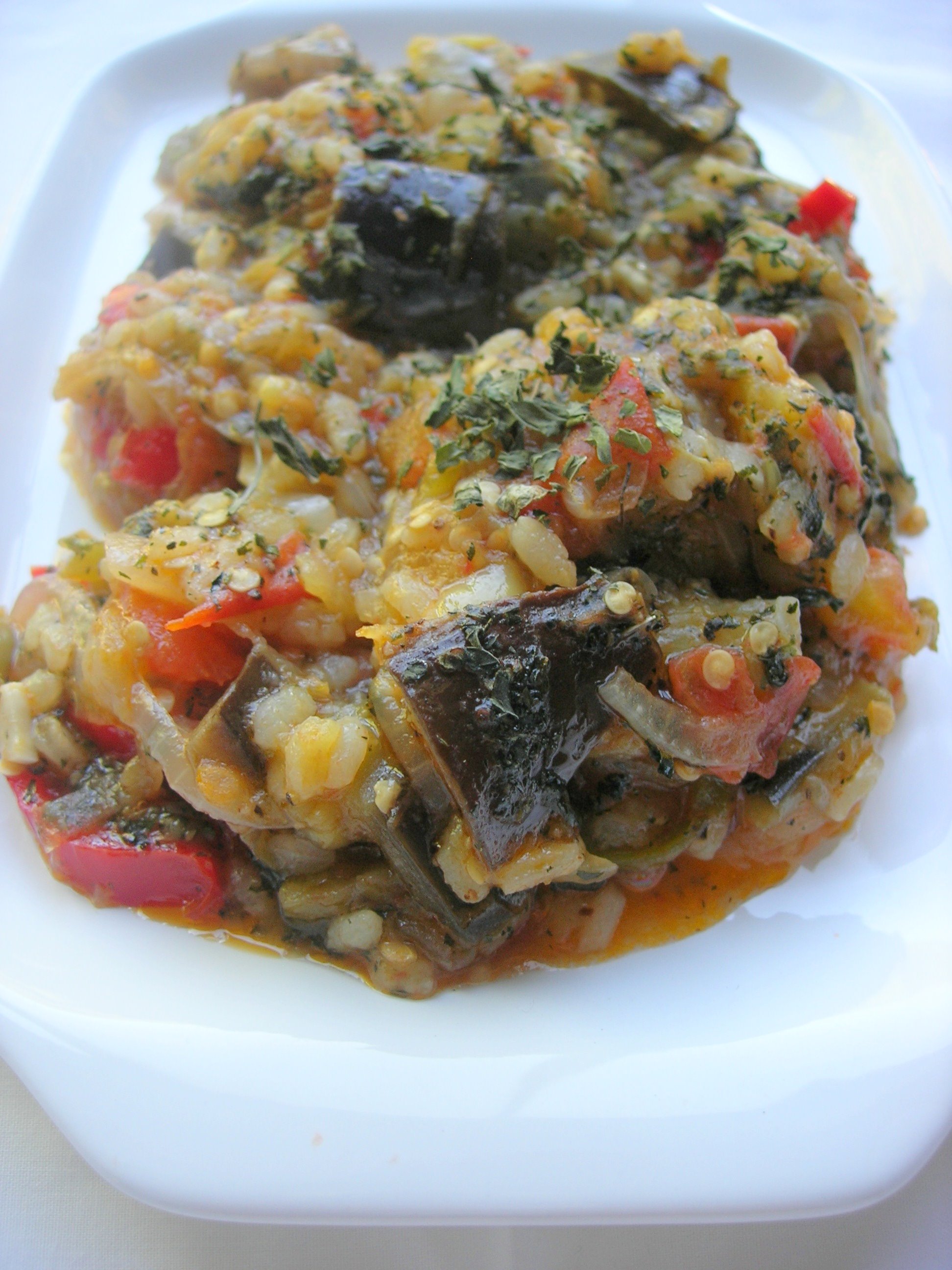 Summary
Preparation Time
20 Min
Cooking Time
40 Min
Ready In
1 Hr 0 Min
Difficulty Level
Easy
Health Index
Healthy++
Servings
4
Recipe Story
http://almostturkish.blogspot.com
Ingredients
Eggplant

1 Pound

, diced (peeled partially leaving lengthwise stripes)

Onions

2 Medium

, cut in thin half moons

Garlic

12 Clove (60 gm)

, finely chopped

Green chilies

3

, chopped

Green tomatoes

3

, petite diced (preferably green tomatoes for a sour taste)

Rice

3 Tablespoon

Olive

1⁄4 Cup (4 tbs)

Black pepper

1 Teaspoon

Salt

To Taste

Chopped mint

2 Tablespoon
Nutrition Facts
Serving size
Calories 167 Calories from Fat 21
% Daily Value*
Total Fat 2 g3.8%
Saturated Fat 0.39 g1.9%
Trans Fat 0 g
Cholesterol 0 mg
Sodium 295.5 mg12.3%
Total Carbohydrates 35 g11.5%
Dietary Fiber 7.9 g31.6%
Sugars 9.9 g
Protein 5 g10.9%
Vitamin A 21.6% Vitamin C 91.1%
Calcium 9.9% Iron 11.8%
*Based on a 2000 Calorie diet
Directions
-Heat oil in a pot. Add onion and garlic. Stir for 3-4 minutes.
-Add chopped chilies. Stir for a couple of minutes.
-Add tomato, eggplant, black pepper, salt. Stir one and do not stir again; otherwise eggplant will get mushy.
-Cover and cook on low-medium until vegetables will get juicy in the pot. Stir in rice nice and polite.
-Cover and cook on low for 30-40 minutes.
-Before you serve, sprinkle chopped basil or mint.