»

Recipes

»

Chutney

»

Eggplant Chutney
Eggplant Chutney Recipe
Spicy Eggplant Chutney goes well with steamed Rice.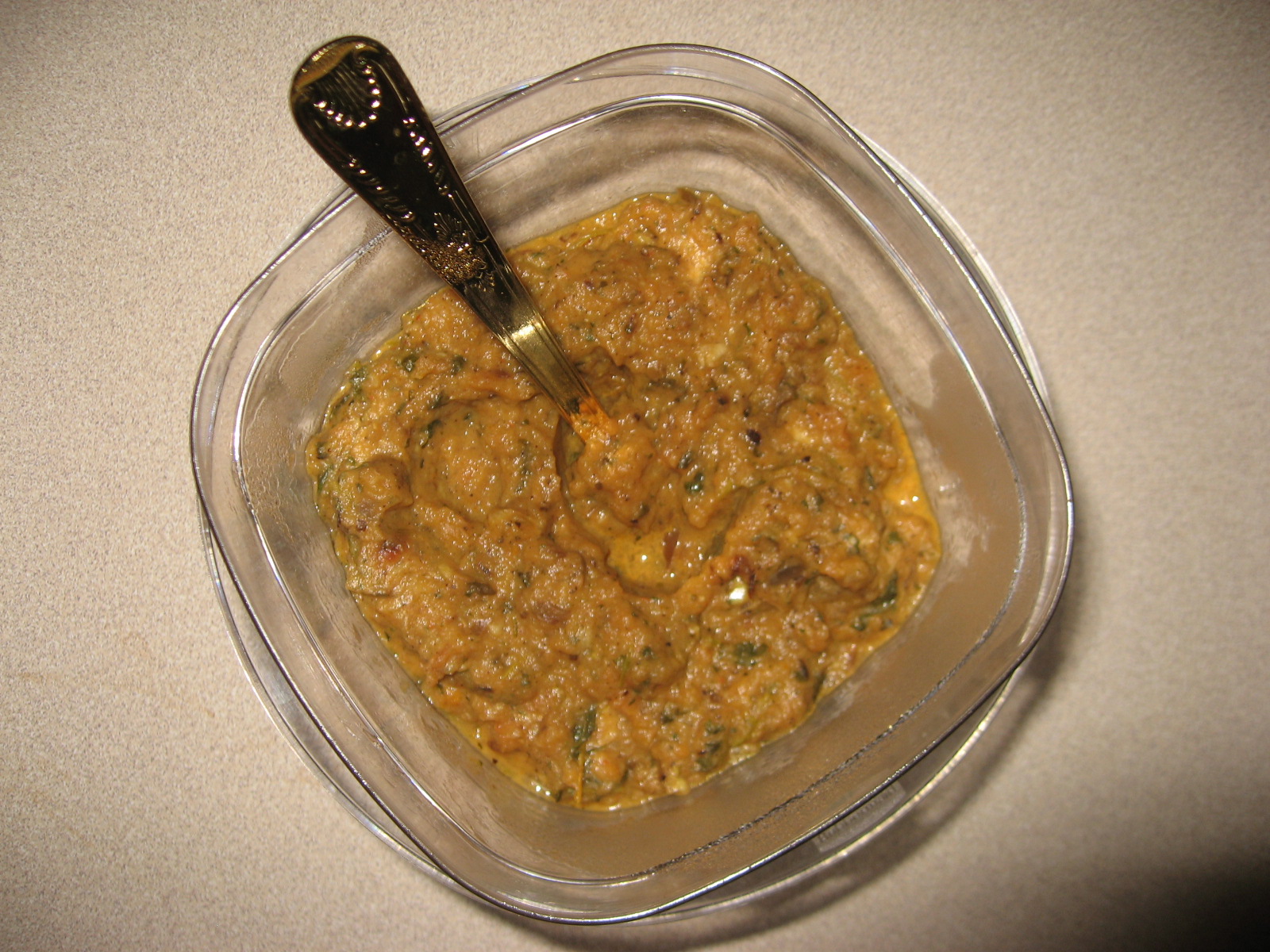 Ingredients
Indian eggplants

3 Small

Tomatoes

1

Onion

1 Small

, chopped

Tamarind paste

1⁄4 Teaspoon

Mustard seeds

1⁄4 Teaspoon

Cumin seeds

1⁄4 Teaspoon

Garlic

3 Clove (15 gm)

, finely chopped

Green chilies

2

, chopped

Mint sprig

3

(Pudina)

Cilantro sprig

4

(Dhaniya)

Turmeric powder

1 Pinch

Salt

To Taste

Chili powder

To Taste
Nutrition Facts
Serving size
Calories 63 Calories from Fat 5
% Daily Value*
Total Fat 0.58 g0.89%
Saturated Fat 0.09 g0.47%
Trans Fat 0 g
Cholesterol 0 mg
Sodium 73.6 mg3.1%
Total Carbohydrates 14 g4.8%
Dietary Fiber 6.9 g27.6%
Sugars 5.8 g
Protein 3 g5.2%
Vitamin A 8.9% Vitamin C 29.4%
Calcium 3.5% Iron 5%
*Based on a 2000 Calorie diet
Directions
Cut eggplant into small pieces and sprinkle some salt on them and keep aside for 5 minutes; then wash thoroughly with water.

Heat a skillet and add 2 tbs of oil. When hot, add mustard seeds and allow them to splutter.

Add cumin seeds, chopped garlic, green chillies and chopped onion. Saute and add chopped tomatoes. Mix well.

Add eggplant, chopped cilantro and mint. If you like the extra tangy taste, you may choose to add a little tamarind paste at this point. Saute for a minute.

Add salt and chilly powder. Mix well. Cover and cook for 5 minutes.

Remove lid and continue cooking until eggplant has become tender/water has evaporated.

Add half cup of water. Mix well and grind the entire mixture into a smooth paste in a blender.

Serve with steamed Rice.

Snigdha! I love your recipes! Can't wait to try this as eggplant is a fav of mine.
Posted on:
3 March 2010 - 6:15pm

This eggplant chutney looks delicious ! I like the chutney made with a tamarind base also. I personally make this with roasted eggplant and onion seasonings.
Posted on:
2 March 2010 - 1:15am

Anonymous says :
I love eggplant chutney with plain steamed rice. In fact, down south, we make it a little different, we use tamarind base for the chutney. Slightly roasted and crushed eggplants or brinjals are added to this along with dried chili flakes and a pinch of salt. We mix it all together and the chutney is ready. Try it out, it's also amazing. The chili flakes floating in the deep brown chutney is worth a sight! :) Thanks for your recipe, I shall definitely try this out!
Posted on:
1 March 2010 - 9:13pm