»

Recipes

»

Eggnog

»

Delicious Eggnog
Delicious Eggnog Recipe
Here is another great tasting Eggnog recipe for you all.This is made with cinnamon & tastes lovely with the spicy,sweet flavor of cinnamon.There are different ways of making the drink,this is one delicious way to do it.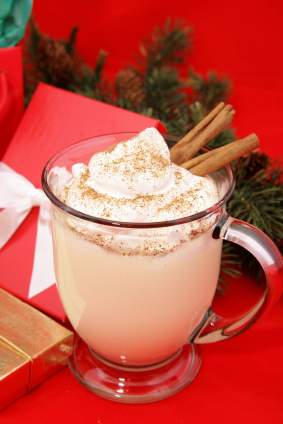 Ingredients
Egg

1

Non fat dry milk solids

1⁄3 Cup (5.33 tbs)

Low sugar

1 Tablespoon

Low fat milk

2⁄3 Cup (10.67 tbs)

(skimmed milk)

Vanilla

1⁄2 Teaspoon

Cinnamon powder

1⁄2 Teaspoon

Whipped cream

1 Tablespoon
Nutrition Facts
Serving size: Complete recipe
Calories 470 Calories from Fat 94
% Daily Value*
Total Fat 10 g16%
Saturated Fat 5.2 g25.8%
Trans Fat 0 g
Cholesterol 254.3 mg
Sodium 552.1 mg23%
Total Carbohydrates 51 g17%
Dietary Fiber 1.3 g5.3%
Sugars 46.1 g
Protein 39 g78.4%
Vitamin A 5.2% Vitamin C 8.8%
Calcium 116.7% Iron 6.6%
*Based on a 2000 Calorie diet
Directions
In a blender place egg,milk solid,half milk,& low sugar,blend all the ingredients well.Drop the remaining milk & vanilla & a bit of cinnamon powder into the egg mix,blend in well.

Pour it out on a glass,put a spoonful of cream on top of eggnog,& sprinkle cinnamon over it.You can also place two cinnamon sticks in the glass for that extra flavor.