»

Recipes

»

Cake

»

Eggless Sponge Fruit Cake
Eggless Sponge Fruit Cake Recipe
This wonderfully simple eggless cake recipe is the next to the best pick for vegans. Enjoy this healthy way to snack that checks on your cholesterol levels!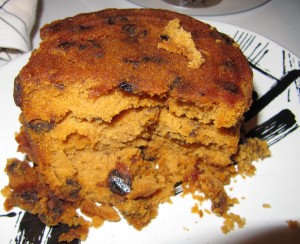 Summary
Preparation Time
15 Min
Cooking Time
1 Hr 10 Min
Ready In
1 Hr 25 Min
Difficulty Level
Easy
Health Index
Average
Servings
6
Ingredients
Flour

1 Pound

Soda bicarbonate

2 Teaspoon

Butter

6 Ounce

Sugar

4 Ounce

Allspice

1 1⁄2 Teaspoon

Sultanas

4 Ounce

Currants

8 Ounce

Candied peel

4 Ounce

Maple syrup

1 Tablespoon

, warmed (1 dessertspoon)

Sour milk

1⁄2 Pint
Nutrition Facts
Serving size
Calories 707 Calories from Fat 228
% Daily Value*
Total Fat 26 g40%
Saturated Fat 16 g80%
Trans Fat 0 g
Cholesterol 61 mg
Sodium 505.1 mg21%
Total Carbohydrates 109 g36.2%
Dietary Fiber 6.7 g26.8%
Sugars 39.5 g
Protein 13 g25.6%
Vitamin A 16.2% Vitamin C 70.9%
Calcium 19.7% Iron 25%
*Based on a 2000 Calorie diet
Directions
GETTING READY
1. Grease an 8-inch X 5-inch pan with oil or butter and dust it with flour.
2. Preheat the oven to 375° F

MAKING
3. In a large mixing bowl, sift in the flour and soda.
4. Cut the butter into small cubes and disperse in the flour.
5. Using your fingertips or a pastry blender, rub the butter into the flour, until it resembles cake crumbs.
6. Mix the sugar, spice and fruits into the flour mixture.
7. Make a well in the centre, and add warm syrup and milk.
8. Mix quickly and lightly just until the dry ingredients are moistened. The batter will be a bit lumpy.
9. Turn the mixture into the prepared pan.
10. Bake in preheated oven for about 1 to 1 1/4 hours or until a skewer comes out clean.
11. Remove and let cake cool in the pan before inverting onto serving plate.

SERVING
12. Slice and serve the cake warm or cold, for breakfast or as a teatime snack.