»

Recipes

»

Salad

»

Egg Salad Sandwich
Egg Salad Sandwich Recipe
My sister likes this easy and quick egg salad sandwich recipe. It is true that cooking is her hobby. She keeps preparing various types of dishes. But whenever she is very happy. She makes this sandwich .An Interesting fact is that my family also likes this sandwich very much. You should try this egg salad sandwich recipe.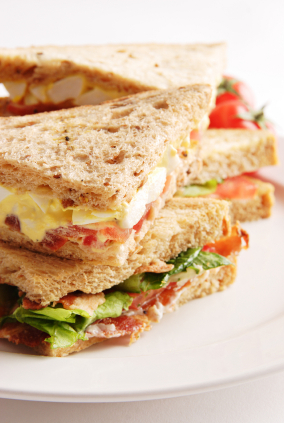 Ingredients
06 slices of brown bread

3 cooked eggs(chopped)

Celery

1/4 Cup (16 tbs)

, chopped

1/6 c. mayonnaise or salad dressing

Onion

1/2 Tablespoon

, chopped

Tomato

1 Small

, chopped

Bread slice

06

Salt

To Taste

Pepper

To Taste
Directions
Stage1-Mix all ingredients except bread.

Stage2-Spread about 1/4 cup egg mixture on half of the bread slices.

Stage3-Top with remaining bread slices.

its good
Posted on:
14 September 2008 - 8:29am