»

Recipes

»

Asian

»

Egg Foo Yong
Egg Foo Yong Recipe
Egg foo yong is a chinese preparation of eggs cooked with shrimps and bean sprouts and veggies. Cooked in form of cakes and fried the egg foo yong is a flavorful side dish.
Egg Foo Young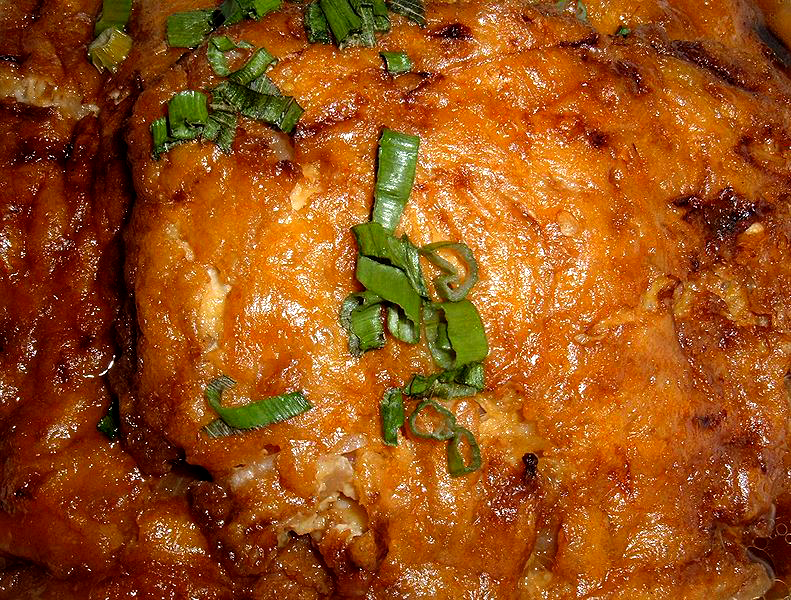 Ingredients
Salt

1⁄2 Teaspoon

Pepper

1⁄4 Teaspoon

Canned water chestnuts

5 Ounce

, drained

Vegetable oil

2 Cup (32 tbs)

(For Frying)

Butter

1⁄4 Cup (4 tbs)

Green pepper

To Taste

, cut into pieces

Onion

1 Medium

, cut into pieces

Bean sprouts

2 Cup (32 tbs)

, drained

Canned shrimp

9 Ounce

, drained

Shrimp

9 Ounce

, drained

Eggs

6
Nutrition Facts
Serving size: Complete recipe
Calories 5442 Calories from Fat 4626
% Daily Value*
Total Fat 523 g804.5%
Saturated Fat 96.4 g482.1%
Trans Fat 0 g
Cholesterol 1777.6 mg
Sodium 1835.7 mg76.5%
Total Carbohydrates 48 g15.9%
Dietary Fiber 8.6 g34.2%
Sugars 19.7 g
Protein 153 g305.8%
Vitamin A 67.6% Vitamin C 83.1%
Calcium 38% Iron 84.7%
*Based on a 2000 Calorie diet
Directions
Melt butter in skillet.
Blender chop pepper and onion.
Add to skillet and saute until onion is glassy.
Empty into mixing bowl, add bean sprouts.
Put 1 can shrimp into Osterizer container, cover and process at STIR until chopped.
Add to vegetables and repeat.
Put remaining ingredients except chestnuts into Osterizer container, cover and process at WHIP until very frothy.
Stop Osterizer Blender and add chestnuts, cover and CYCLE/GRATE.
Pour over vegetables and mix well.
Pour oil to a depth of about 1/4 in skillet and heat to 375°.
Use 1/3 cup of mixture for each cake and fry until golden brown on both sides.
Keep warm in oven.
When all cakes are fried, return to skillet, add soy sauce and heat through.