»

Recipes

»

Curry
Egg Curry Recipe
Egg Curry is one of my most favorite dish. Doesn't take much time and tastes great. I Like to make it by using the fried boiled eggs.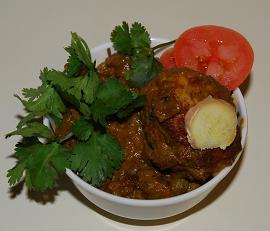 Ingredients
Eggs

6

Onions

1⁄2 Kilogram

Ginger

1 Teaspoon

(A Small Cube)

Garlic

1 Tablespoon

(3-4 Piece)

Red chillies

6

(according to taste)

Red chilies

6

Cumin seeds

1⁄2 Teaspoon

Cumin powder

1⁄2 Teaspoon

Turmeric powder

1⁄4 Teaspoon

Coriander powder

1 Tablespoon

Cinnamon

1 Gram

Black cardamom

4 Gram

Curd/Yogurt

3 Tablespoon

Green peas

80 Gram

Salt

To Taste

Chicken masala

1 Teaspoon

(Add For Spicier Taste)
Nutrition Facts
Serving size
Calories 296 Calories from Fat 110
% Daily Value*
Total Fat 12 g18.9%
Saturated Fat 3.6 g18.1%
Trans Fat 0 g
Cholesterol 424.9 mg
Sodium 425.8 mg17.7%
Total Carbohydrates 32 g10.6%
Dietary Fiber 8 g31.8%
Sugars 12.4 g
Protein 19 g37.2%
Vitamin A 22% Vitamin C 139.5%
Calcium 18.8% Iron 28.1%
*Based on a 2000 Calorie diet
Directions
1. Put the eggs to boil and in the mean while cut onions
2. Take 1/4 kgs of onions, Ginger, Garlic, Red Chilly, Cumin seeds and grind in a mixer/ blender
3. Peel off the boiled eggs and make several holes on them using any pointed object (can use fork or toothpicks)
4. Heat oil in a frying pan and fry eggs on high flame to give them a little burnt texture.
5. take out the eggs and put cut onions in the frying pan. Add some salt and Fry for 5-6 minutes on a medium flame.
6. Add green peas and fry for 2-3 minutes more.
7. Add the onion paste
8. Mix Coriander, Cumin, turmeric (optional chicken masala) in a bowl with some water, and add in the frying pan
9. Stir it till the oil leaves the mixture.
10. Add 500 ml of water and fried eggs in the frying pan.
11. Add salt to taste
12. Let it boil for sometime and let some water evaporate.

I like it with thick gravy. You can decide when to switch off the stove as per your need of gravy.

This is pretty much the way i make it. At times I avoid the peas, at times I also add 1 or two potatoes. It always turns out good.
Posted on:
22 March 2008 - 2:22pm