»

Recipes

»

Egg Chicken Casserole
Egg Chicken Casserole Recipe
This is a great casserole to use for funeral dinners or other times you need a great casserole.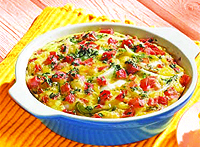 Ingredients
Chicken

1

(3 Pound)

Condensed chicken and rice soup

10 1⁄2 Ounce

Condensed cream of mushroom soup

10 3⁄4 Ounce

White bread slices

6

, torn into small pieces

Eggs

2 Small

Butter

1⁄2 Cup (8 tbs)

, melted

Saltine crackers

To Taste

, crushed

Chicken broth

2 Cup (32 tbs)
Nutrition Facts
Serving size
Calories 641 Calories from Fat 355
% Daily Value*
Total Fat 40 g60.8%
Saturated Fat 15.8 g78.8%
Trans Fat 0 g
Cholesterol 227.1 mg
Sodium 931.2 mg38.8%
Total Carbohydrates 19 g6.3%
Dietary Fiber 1 g4%
Sugars 1.3 g
Protein 48 g96.9%
Vitamin A 17% Vitamin C
Calcium 3.9% Iron 12.6%
*Based on a 2000 Calorie diet
Directions
1. Preheat oven to 350 degrees F (175 degrees C).

2. In a medium bowl combine the chicken meat, chicken and rice soup, cream of mushroom soup, bread and eggs. Mix all together and pour mixture into a 9x13 inch baking dish.

3. In a small bowl combine butter/margarine and crackers and stir together. Spread on top of chicken mixture. Pour chicken broth over all and bake uncovered in the preheated oven for 1 hour or until cracker crumbs on top are golden brown.

Hey Garrison, This Egg Chicken Casserole Recipe is looking so good. Really it would be a great side dish choice. The word casserole is also used for the food cooked and served in such a dish. These foods usually consist of meat and/or vegetables and sometimes bulked with pasta, potato, rice or other grains cooked slowly in sauce or other liquid, and may be served as a main course or a side dish. Thanks for posting this nice Egg Chicken Casserole recipe .
Posted on:
6 February 2008 - 1:37pm