»

Recipes

»

Frittata

»

Egg And Bacon Frittata
Egg and Bacon Frittata Recipe
If you haven't decided what to cook this holiday, then try this egg and bacon frittata recipe. The pleasure you would experience in cooking this recipe would make your holiday more delightful. This dish would be so tasty that the fragrance of it will make people's mouth to water.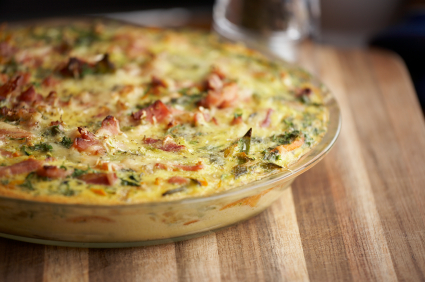 Ingredients
Eggs

8

Milk

1 1⁄2 Cup (24 tbs)

Green onion

2

, minced

Butter

3 Tablespoon

, melted

Salt

1 Teaspoon

Pepper

1⁄4 Teaspoon

Cheddar cheese

100 Gram

, shredded

Crumbed cooked bacon

1 Can (10 oz)
Nutrition Facts
Serving size
Calories 470 Calories from Fat 319
% Daily Value*
Total Fat 36 g54.9%
Saturated Fat 16.7 g83.7%
Trans Fat 0 g
Cholesterol 383.8 mg
Sodium 1201.5 mg50.1%
Total Carbohydrates 7 g2.4%
Dietary Fiber 0.15 g0.59%
Sugars 3.7 g
Protein 30 g60.3%
Vitamin A 17.9% Vitamin C 3%
Calcium 22.4% Iron 8%
*Based on a 2000 Calorie diet
Directions
Stage1-Preheat oven to 375 degrees fareinhite . Grease 10 1/2-inch round pan or 9 x 9-inch baking pan.

Stage2-In a bowl, with wire whisk, beat eggs, milk, green onion, butter, salt and pepper until well blended.

Stage3-Pour mixture into baking pan.

Stage4-Sprinkle cheese and bacon evenly over top.

Stage5-Bake 30 minutes or until set and golden brown.