»

Recipes

»

Custard

»

Egg Custard Tarts
Egg Custard Tarts Recipe
Egg Custard Tarts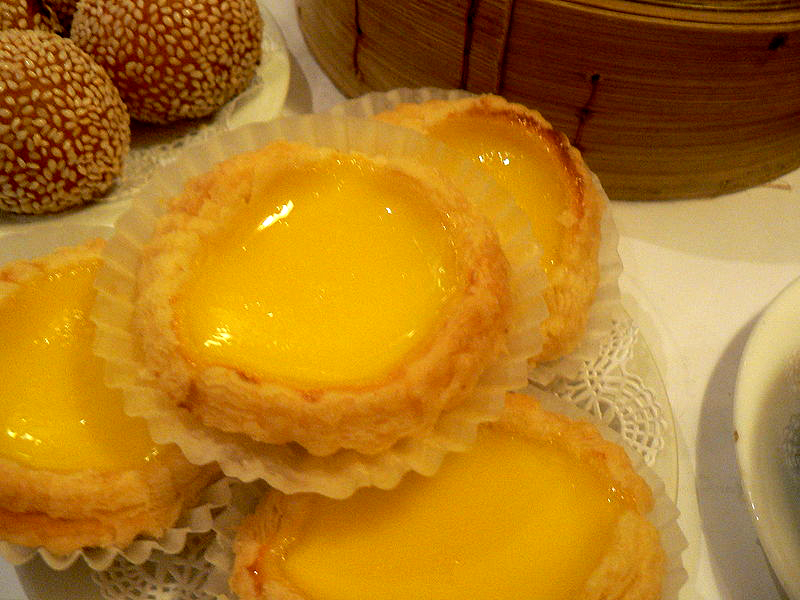 Ingredients
For pastry dough

Lard

1⁄2 Cup (8 tbs)

, chilled and diced

Unsalted butter

1⁄4 Cup (4 tbs)

, chilled and diced

Egg

1

All purpose flour

1 3⁄4 Cup (28 tbs)

Ice water

2 Tablespoon

Vanilla extract

1 Teaspoon

For filling

Sugar

2⁄3 Cup (10.67 tbs)

Boiling water

2⁄3 Cup (10.67 tbs)

Evaporated milk

1⁄3 Cup (5.33 tbs)

Eggs

4

, lightly beaten

Vanilla extract

1⁄2 Teaspoon
Nutrition Facts
Serving size: Complete recipe
Calories 3134 Calories from Fat 1624
% Daily Value*
Total Fat 182 g279.3%
Saturated Fat 81.1 g405.4%
Trans Fat 0 g
Cholesterol 1300.5 mg
Sodium 460.6 mg19.2%
Total Carbohydrates 312 g103.9%
Dietary Fiber 5.9 g23.6%
Sugars 145.3 g
Protein 60 g120.7%
Vitamin A 56.4% Vitamin C 2.7%
Calcium 40.9% Iron 82.9%
*Based on a 2000 Calorie diet
Directions
Place chilled lard, butter, and egg in a food processor.
Process mixture for 4 seconds.
Add flour and process until lumps are the size of peas.
Add water and vanilla and process a few seconds longer.
(Do not overprocess.) Mixture should be crumbly.
Press crumbs together, shape into a patty 1 inch thick, and wrap with plastic wrap.
Chill for 45 minutes.
On a lightly floured surface, roll out dough 1/4 inch thick to form a long rectangle.
If dough becomes soft and sticky during the rolling and folding process, return dough to refrigerator and chill until firm.
Fold the rectangle of dough into thirds, as if folding a letter, then turn dough 90 degrees.
Roll out again into a rectangle 1/4 inch thick and fold into thirds.
Cover with plastic wrap.
Let dough rest in refrigerator for 20 minutes.
Meanwhile, prepare filling.
In a large bowl, dissolve sugar in boiling water; let cool to room temperature.
Whisk in evaporated milk and eggs.
Stir in vanilla and refrigerate until ready to use.
Remove chilled dough from refrigerator and place on a lightly floured surface.
Roll out dough into a large rectangle about 1/4 inch thick.
Cut out 14 circles with a 4-inch round cutter.
Center each pastry circle in a 2 1/2-inch tart tin.
Lightly press dough into bottom and sides of tin; trim edges.
Chill for 1 hour or overnight.
Preheat oven to 300°F.
Pour filling into pastry-lined tins to within 1/4 inch of the top.
Place filled tins on a cookie sheet; bake in preheated oven for 35 minutes or until a knife inserted in center comes out clean.
Cool slightly.
Carefully turn tins upside down, gently tapping to release crust.
Cool, custard side up, on a wire rack.
Serve warm or at room temperature.