»

Recipes

»

Bacon

»

Egg And Bacon Strata
Egg and Bacon Strata Recipe
This strata is a delight for a Sunday brunch with a few friends. The first time you make it you will immediately start dreaming up alternative fillings. No problem, it's a versatile casserole. After you make this version with bacon you can start replacing the bacon with, let's say, a cup of diced ham and a half cup of sautéed sliced mushrooms. Or you could use Swiss cheese and diced cooked chicken, or cooked broccoli and Gruyère cheese, tomatoes and cooked pork sausage, or...well, you get the idea.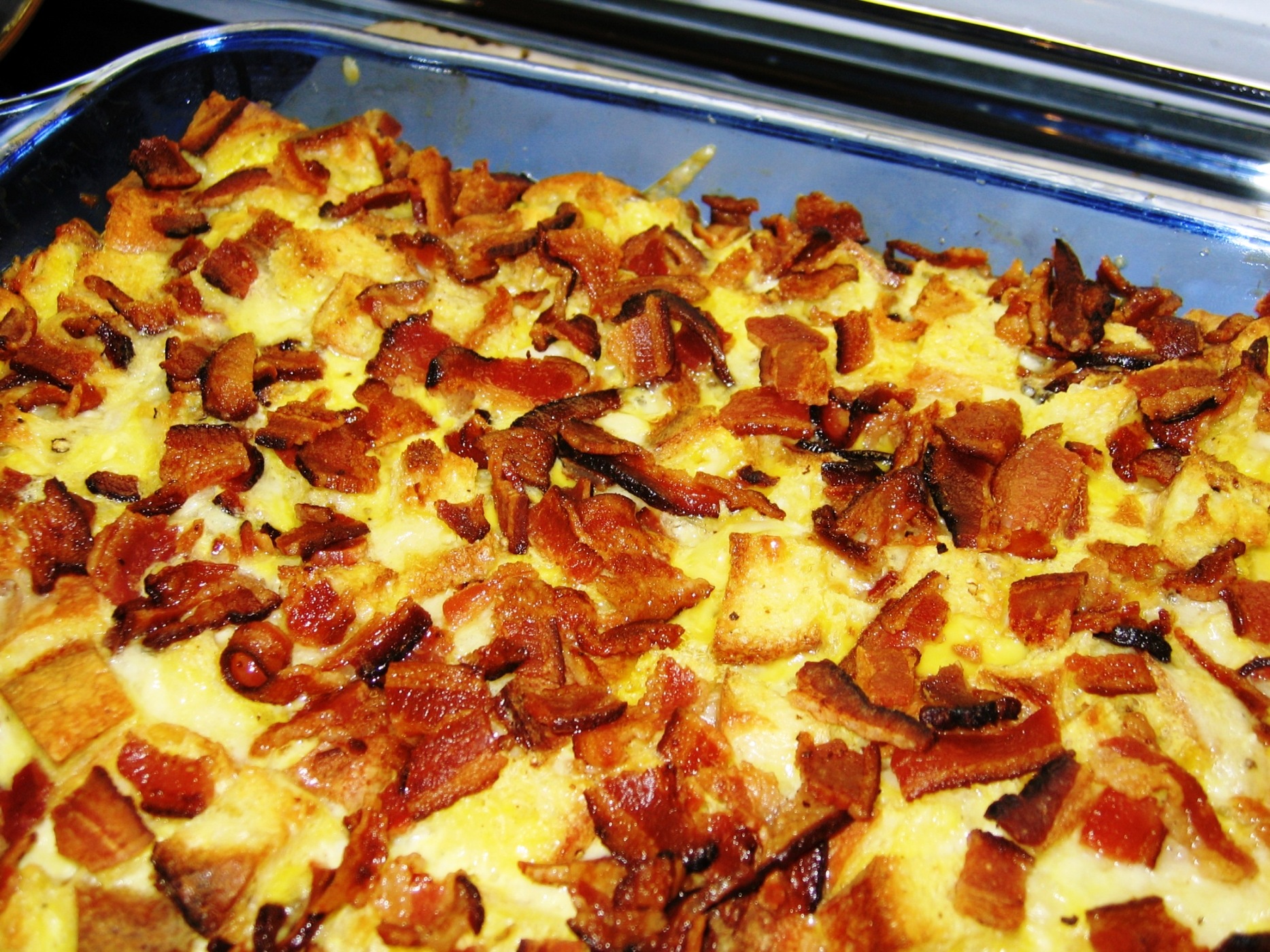 Ingredients
4 cups 1/2-inch cubes hearty white bread or French bread

Shredded sharp Cheddar cheese

2 Cup (16 tbs)

Onion

1/2 Cup (16 tbs)

, finley chopped

Eggs

8 Large

Half and Half

3/4 Cup (16 tbs)

Dijon Mustard

2 Teaspoon

Salt

1 Teaspoon

Ground black pepper

1/4 Teaspoon

6 thick-cut bacon slices, cooked and crumbled
Directions
1. Preheat the oven to 350 degrees F. Butter a 12 x 9 x 2-inch or similar casserole.
2. In a large bowl, toss the bread cubes, cheese, and onion together then arrange this mixture evenly over the casserole. In the same bowl, beat the eggs, half and half, mustard, salt, and black pepper to blend. Pour this egg mixture over the bread cubes. Sprinkle the bacon over. Bake until a knife inserted into the center of the strata comes out clean, about 25 minutes. Serve hot.
Image and Recipe © Clifford A. Wright
This recipe is excerpted from the book
Bake Until Bubbly
by
Clifford A. Wright
.For more information or to purchase the book, please visit
CliffordAWright.Com
.