»

Recipes

»

Bread

»

Easy White Bread
Easy White Bread Recipe
Easy white bread is a very basic bread. It needs two rises and yields wonderful, soft and crumbly bread for your breakfast sandwiches. We have an easy white bread made with electric mixer but you can try your hand at the traditional way too. Easy white bread is great any which ways.
Homemade White Bread with Strawberry Jam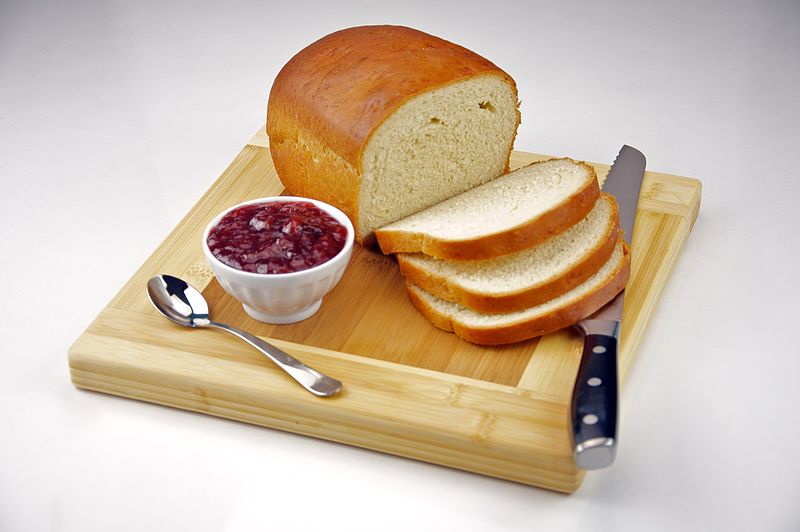 Ingredients
All purpose flour

7 Cup (112 tbs)

Sugar

2 Tablespoon

Salt

1 Tablespoon

Yeast

2 Tablespoon

Margarine

1⁄2 Cup (8 tbs)

, softened

Water

2 Cup (32 tbs)

Peanut oil

2 Tablespoon
Nutrition Facts
Serving size
Calories 546 Calories from Fat 139
% Daily Value*
Total Fat 16 g24.3%
Saturated Fat 2.7 g13.7%
Trans Fat 0 g
Cholesterol 0 mg
Sodium 733.8 mg30.6%
Total Carbohydrates 88 g29.3%
Dietary Fiber 3.3 g13%
Sugars 4 g
Protein 12 g23.3%
Vitamin A 9.7% Vitamin C 0.03%
Calcium 1.8% Iron 28.9%
*Based on a 2000 Calorie diet
Directions
MAKING
1)In a bowl, mix 2 cups flour, sugar, salt and yeast and add margarine and hot water.
2)Beat for 2 minutes at medium speed of electric mixer.
3)Then, add 1 cup flour and beat at high speed for 2 minutes. Scrap bowl occasionally.
4)Add enough remaining flour to make soft dough.
5)On a lightly floured board, knead for 10 minutes or until smooth and elastic.
6)Cover it with plastic wrap and towel and let rest for 20 minutes. Punch down.
7)Divide it in half on lightly floured board and shape into loaves.
8)Take 2 greased 9 x 5 x 3-inch pans and put the loaves. Brush oil.
9)Cover pans loosely with plastic wrap. Refrigerate for 2 to 24 hours.
10)Remove from refrigerator and remove plastic wrap.
11)Leave it for 10 minutes at room temperature. Puncture any gas bubbles with skewer.
12)Bake in 400 degrees for 30 to 40 minutes. Remove from pans and cool on wire racks.

SERVING
13)Serve easy white bread for breakfast or use in sandwiches.