»

Recipes

»

Pie
Mince Pie Recipe
Finely chopped apples in a Meat pie.A variety of traditional Meat pie with dates & raisins.A very popular American Meat pie.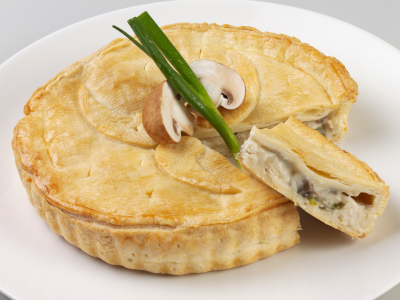 Ingredients
Mincemeat

100 Gram

Chopped dates

1⁄2 Cup (8 tbs)

Chopped apple

1 1⁄2 Cup (24 tbs)

(chopped finely)

Seedless raisins

20 Gram

Water/Juice from spiced peaches

1 1⁄2 Cup (24 tbs)
Nutrition Facts
Serving size: Complete recipe
Calories 900 Calories from Fat 250
% Daily Value*
Total Fat 28 g42.7%
Saturated Fat 10.1 g50.7%
Trans Fat 0 g
Cholesterol 71 mg23.7%
Sodium 1338 mg55.8%
Total Carbohydrates 160 g53.4%
Dietary Fiber 19 g75.9%
Sugars 125.3 g
Protein 18 g35.8%
Vitamin A 4.1% Vitamin C 29.2%
Calcium 7.8% Iron 14.8%
*Based on a 2000 Calorie diet
Directions
Add all and let boil over moderate heat and boil for about 15 minutes. Col
and pour into a pastry lined pie plate, cover with strips of pastry or with
a whole pastry top and bake for about 40 minutes in a 375-400 degree oven.
This makes 1 large and 1 small pie.