»

Recipes

»

Mexican

»

Easy Margarita Pie
Easy Margarita Pie Recipe
Absolutely superb Margarita Pie.Want to bake a strawberry Margarita Pie...look no further,an excellent Margarita Pie with frozen strawberry & graham cracker.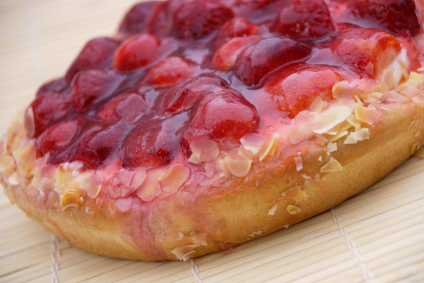 Summary
Preparation Time
5 Min
Cooking Time
6 Hr 10 Min
Ready In
6 Hr 15 Min
Difficulty Level
Easy
Ingredients
Frozen strawberries in syrup

10 Ounce

(thawed)

Cream cheese

8 Ounce

, softened

Thawed margarita mix concentrate

1⁄2 Cup (8 tbs)

Cool whip

4 Ounce

(thawed)

Ready to use graham cracker pie crust

6 Ounce
Nutrition Facts
Serving size: Complete recipe
Calories 2278 Calories from Fat 1253
% Daily Value*
Total Fat 139 g213.9%
Saturated Fat 71 g355.2%
Trans Fat 0 g
Cholesterol 249.4 mg
Sodium 1530.1 mg63.8%
Total Carbohydrates 233 g77.6%
Dietary Fiber 8.6 g34.5%
Sugars 144.4 g
Protein 24 g47.2%
Vitamin A 58.9% Vitamin C 186.6%
Calcium 30.3% Iron 36.8%
*Based on a 2000 Calorie diet
Directions
Place strawberries, cream cheese and margarita mix concentrate in blender
or food processor. Cover and blend on medium speed until well blended.
Pour mixture into medium bowl; fold in whipped topping. Pour into pie
crust. Freeze 4 to 6 hours or until firm. Let stand at room temperature 5
to 10 minutes before cutting. Freeze any remaining pie.

K.D. says :
This cheesecake was so easy to make! I am taking it to a party tomorrow and will definitely post again to share everyone's comments. =)
Posted on:
31 July 2009 - 12:04am

What a great combination- Margarita and Strawberry? In my view this is the best pie recipe. This recipe is also looking very simple and easy. I will surely try this recipe. Thanks for posting this nice recipe.
Posted on:
26 February 2008 - 3:10pm