»

Recipes

»

Pickle

»

Easy Lime Pickle
Easy Lime Pickle Recipe
This lime pickle goes well with curd rice and other rice varities...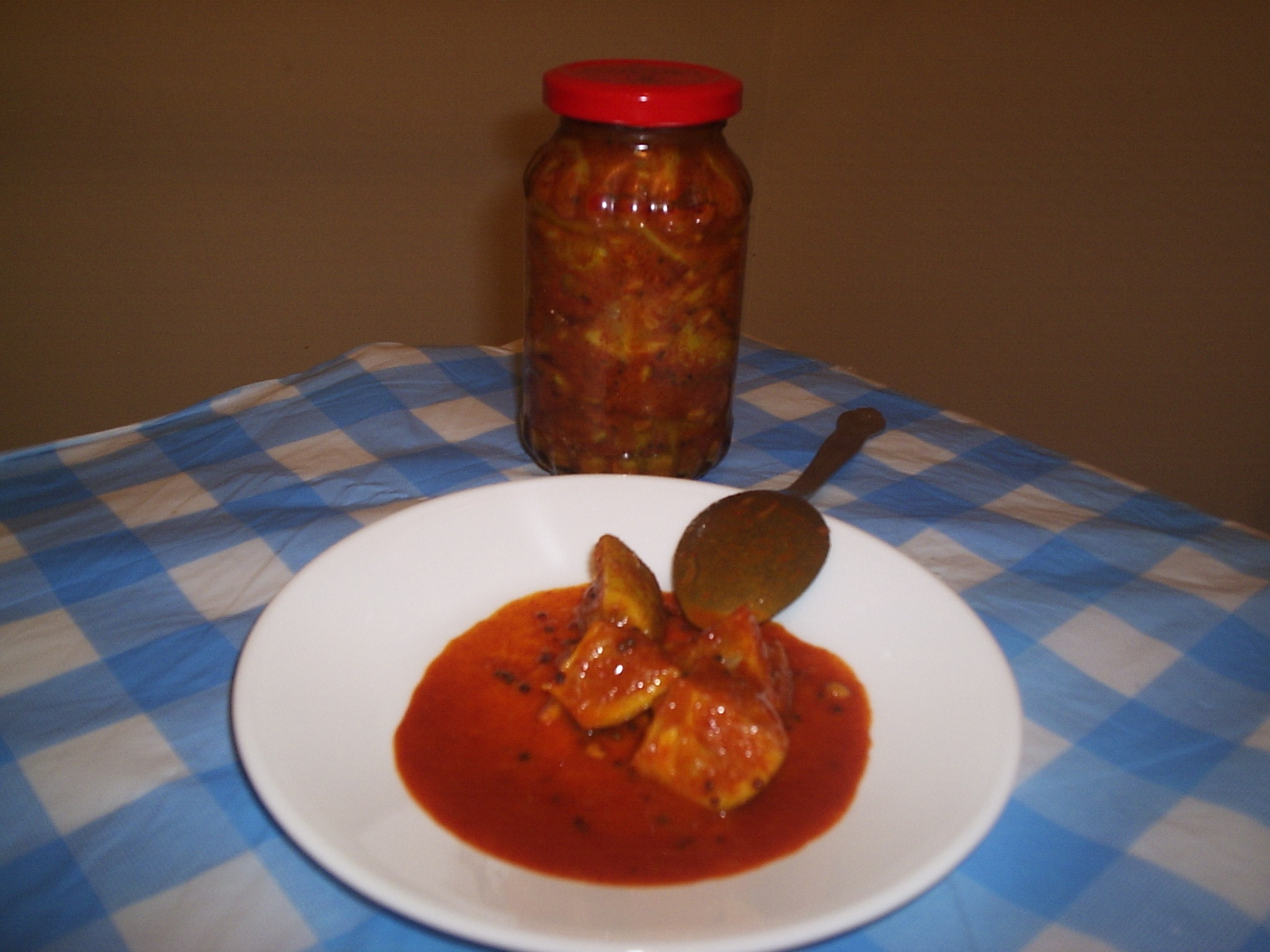 Ingredients
Limes

9

(preferably ripe limes)

Salt

5 Tablespoon

Chilli powder

2 Tablespoon

Turmeric powder

1 1⁄2 Teaspoon

Sugar

3 Tablespoon

Urad dal

1 Teaspoon

Urad dhal

1 Teaspoon

Methi seed

1⁄2 Teaspoon

Mustard seeds

1 Teaspoon

Asafoetida

1⁄4 Teaspoon

Oil

2 Tablespoon

Pickle

2 Cup (32 tbs)
Nutrition Facts
Serving size
Calories 50 Calories from Fat 13
% Daily Value*
Total Fat 2 g2.3%
Saturated Fat 0.21 g1%
Trans Fat 0 g
Cholesterol 0 mg
Sodium 1350.9 mg56.3%
Total Carbohydrates 8 g2.8%
Dietary Fiber 0.88 g3.5%
Sugars 6.5 g
Protein 0.41 g0.81%
Vitamin A 7.3% Vitamin C 6.3%
Calcium 1.1% Iron 2.4%
*Based on a 2000 Calorie diet
Directions
1. Wash and dry the limes. (There should be no trace of water on the limes or on the containers and spoons used)
2. Cut 3 limes and squeeze their juices and keep it aside.
3. For the rest 6 limes, cut their stalk end and then into quarters and again to get small pieces.
4. Put this in a microwaveable glass bowl and pour the juice over.
5. Add the salt, chilli powder, turmeric powder and sugar. Blend well.
6. In a hot frying pan, add oil; then the mustard seeds. Let them splutter.
7. Add the urad dhal and then the methi seeds. Fry for about 1/2 min.
8. Switch of the flame and add asafoetida.
9. Pour this into the lime mixture and blend well.
10. Microwave the lime pickle for 1 min and then store it in a glass container. Best used after 2-3 weeks.

kathrine says :
I want to make your lime pickle recipe but am not sure what Urad Dal is exactly. Is it cooked black lentils? thank you!
Posted on:
14 October 2009 - 6:51pm

Lime has several medicinal effects. This is a good appetizer. Thanks for posting this easy lime pickle recipe.
Posted on:
21 February 2008 - 12:17am

These are seriously wonderful! I used Bearss Lime/Tahatian Limes and Meyer Lemons both were excellent. Perfect! This will be a favourite year after year. Shanti/Mary-Anne
Posted on:
15 February 2008 - 1:57am

Thanx Mary for trying this recipe. Happy to know that u enjoyed it...
Posted on:
15 February 2008 - 11:59am

This is the real taste of India. Pickle, such a side dish that makes food more delicious. Lemon Pickles are also very popular in North India. These pickles are truly yummy. Thanks for sharing this chatpati lemon pickle recipe.
Posted on:
14 February 2008 - 2:39pm

Thanx for the comment Ganesh.....
Posted on:
14 February 2008 - 11:33pm

rumya says :
I love home made lemon/lime pickle. Your recipe is easy to follow. I love the tip also. I am going to try this. Thank you for sharing.
Posted on:
31 January 2008 - 12:50am

Hope u'll love this easy pickle.
Posted on:
1 February 2008 - 12:37am

No basic water bath is a way to preserve or can the food. You place in sterile jars, fill within 1/2" of the top of the jar, clean the top lip of the glass jar with a damp cloth, then place rubber seal cap, then the screw on lid. You place these jars in a canner to process that is boil. For pickles you boil for 10 minutes, remove sit on racks to cool. You will hear the jars go ping as they seal. The pickles can be kept unrefrigerated for years. I make dill pickles this way. However, I make preserved lemons with salt and lemon juice plus spices if wanted and these are not water bath processced as the acid and alr preserves them-unrefrigerated. Shanti/Mary-Anne
Posted on:
29 January 2008 - 3:44pm

Thanx for explaining the water bath method...
Posted on:
31 January 2008 - 1:06am

By water-bath, are u telling boiling the limes in salt water and then keeping it for a day n' so on...
Posted on:
29 January 2008 - 1:46pm

This sounds terrific love Lime Pickles. We have Bearss Limes tree, and my mom has a large tree that is loaded with limes. When they are ripe they turn yellow and are so juicy. She has been giving the limes away to everyone she knows and still has so many. She is in Sunnyvale-anyone need limes? Have you ever canned these using Water-bath method? like you do regular pickles? Shanti/Mary-Anne
Posted on:
28 January 2008 - 10:12pm

Suren Irukulla says :
Hi Shanti: I would like to get some of those limes from your mom. I live close to Sunnyvale. My email:surenirukulla@yahho.com. Thanks.
Posted on:
12 December 2009 - 12:53am

This sounds great and easy to make. My Mom always makes lime pickle for me and I bring them here with me to U.S, but now I guess I make my own lime pickle ;) Thanks for sharing.
Posted on:
28 January 2008 - 6:43pm

Mom's pickles are always the best. My stock of pickle was over, so I decided to give it a try. I have made this many times, found it so easy and tasty..Hope u'l like it..
Posted on:
29 January 2008 - 1:59pm