»

Recipes

»

Bread

»

Easy Banana Bread
Easy Banana Bread Recipe
Banana is my favorite fruit. This easy banana bread recipe is what I find to be the best way to enjoy my favorite fruit. This is mom's tried and tested recipe that she has over the years brushed up over and over again to suit our tastes. A simple and easy way to a great tasting tea time snack.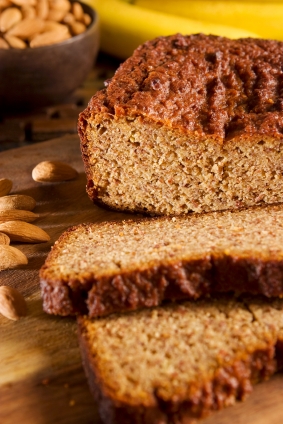 Ingredients
All purpose flour

1 1/4 Cup (16 tbs)

Sugar

1 Cup (16 tbs)

3 ripe bananas (if you have those slightly over ripe bananas on your table you can add them in)

Melted butter

1/3 Cup (16 tbs)

, salted

Egg

1

Baking soda

1 Teaspoon

Vanilla extract

4 Drop

Powdered cinnamon

1 Pinch
Directions
Take a big mixing bowl and add in the bananas. Mash them well. Now add in the butter and sugar and beat well. Add the egg. Beat. Now add in the vanilla extract, cinnamon powder and baking soda. Mix well. Slowly fold in the all-purpose flour little by little. Pour the mixture into a pre-greased tin and bake in a pre-heated oven (at 350 degrees) for 45 minutes to an hour or till done. When pricked with a fork it must come clean and you know that your easy banana bread is done perfectly. You could even add to it a handful of chocolate chips. Bananas and chocolates make a wonderful combination.

Banana is never my pick! But recently i read a blog saying eating banana can help you lose weight!!!! Like !'m in for it then. This banana cake seems to be a wonderful away to use out the banana i have in store. The picture looks simply awesome and the recipe seems unusually easy. Thanks!
Posted on:
7 November 2008 - 8:29am

thanks for posting this recipe!!
Posted on:
5 November 2008 - 1:40pm

This recipe is easy and delicious. Thank you for posting.
Posted on:
4 November 2008 - 1:24pm