»

Recipes

»

Oatmeal

»

Easy Oatmeal Cookies
Easy Oatmeal Cookies Recipe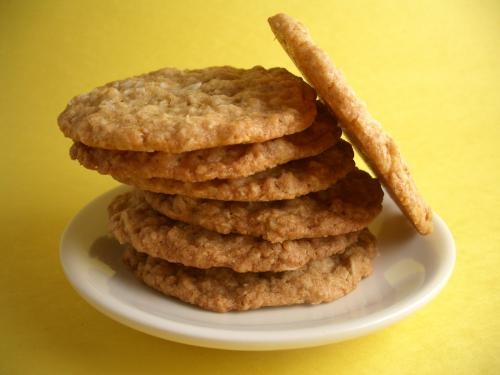 Ingredients
All purpose flour

1 1⁄4 Cup (20 tbs)

Soda

1 Teaspoon

Salt

1⁄2 Teaspoon

Ground cinnamon

1⁄2 Teaspoon

Shortening

1 Cup (16 tbs)

Firmly packed brown sugar

1 Cup (16 tbs)

Sugar

1 Cup (16 tbs)

Eggs

2

Vanilla extract

1⁄2 Teaspoon

Oats

3 Cup (48 tbs)

, uncooked (quickcooking or regular)

Pecans

1⁄2 Cup (8 tbs)

, chopped
Nutrition Facts
Serving size: Complete recipe
Calories 6346 Calories from Fat 2562
% Daily Value*
Total Fat 294 g452.1%
Saturated Fat 64 g319.9%
Trans Fat 27 g
Cholesterol 423 mg
Sodium 2561 mg106.7%
Total Carbohydrates 847 g282.4%
Dietary Fiber 58.8 g235.4%
Sugars 423.3 g
Protein 110 g220.1%
Vitamin A 10.6% Vitamin C 1.3%
Calcium 57.9% Iron 187%
*Based on a 2000 Calorie diet
Directions
GETTING READY
1) Pre-heat oven by setting it to 350°F

MAKING
2) Take a bowl and mix the flour together with cinnamon, salt and soda.
3) Keep it aside.
4) Mix the shortening with sugar and cream them together.
5) Add the vanilla and eggs. Beat them in.
6) Add it to the flour mixture and blend well.
7) Add the pecans and oats to it stirring them in.
8) Fashion the dough into inch sized balls.
9) Take cookie sheets and grease them lightly.
10) Place the balls into them keeping an inch space between each.
11) Place in a pre-heated oven and bake for 12-15 minutes or until they turn light brown

SERVING
12) Serve as required.