»

Recipes

»

Rice

»

Easy Fried Rice
Easy Fried Rice Recipe
Fried rice made easy. It takes hardly any effort to prepare this savory rice dish and yet, it has oodles of flavor and is very satisfying. A favourite comfort food among rice lovers :) This is a tried and tasted recipe and a favourite among my friends and family.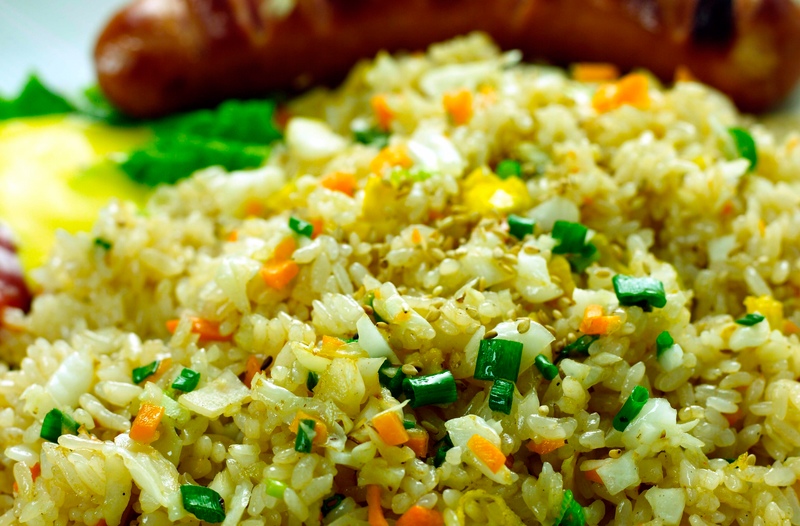 Ingredients
Cold cooked rice

1 Cup (16 tbs)

Eggs

2 Small

, beaten

Chopped garlic

2 Clove (10 gm)

Chopped onions

1 Small

Soy sauce

2 Tablespoon

Ajino-moto

1⁄2 Teaspoon

(For Enhancing Flavor)

Salt

To Taste

Black pepper powder

1⁄2 Teaspoon

Oil

2 Tablespoon

Vegetables

3⁄4 Cup (12 tbs)

(Carrots, Green Beans, Peas, Corns And Onion Leaves.)
Nutrition Facts
Serving size: Complete recipe
Calories 765 Calories from Fat 344
% Daily Value*
Total Fat 39 g59.7%
Saturated Fat 6.6 g32.8%
Trans Fat 0 g
Cholesterol 321.4 mg
Sodium 3014.2 mg125.6%
Total Carbohydrates 86 g28.6%
Dietary Fiber 8.5 g33.9%
Sugars 7 g
Protein 22 g43.5%
Vitamin A 121.9% Vitamin C 42.5%
Calcium 14% Iron 37.9%
*Based on a 2000 Calorie diet
Directions
1. Heat oil in a large skillet and add the onions. Fry them until they are translucent.
2. Now add the chopped garlic and fry for a minute. (If you are adding veggies, then you should add them now and stir fry them for about a minute or two).
3. Add the beaten eggs and scramble them.
4. Add the rice, soya sauce, salt, ajinomoto, black pepper and stir fry for 5-7 minutes. Now the rice should look all done and it should smell very good.
5. Enjoy it grain by grain :)

home theater seating says :
Very nice. I love eating fried rice and this is a great recipe that is very easy to make.
Posted on:
25 June 2010 - 4:35pm
thanks a lot, hope you try it someday!!!
Posted on:
25 June 2010 - 4:41pm